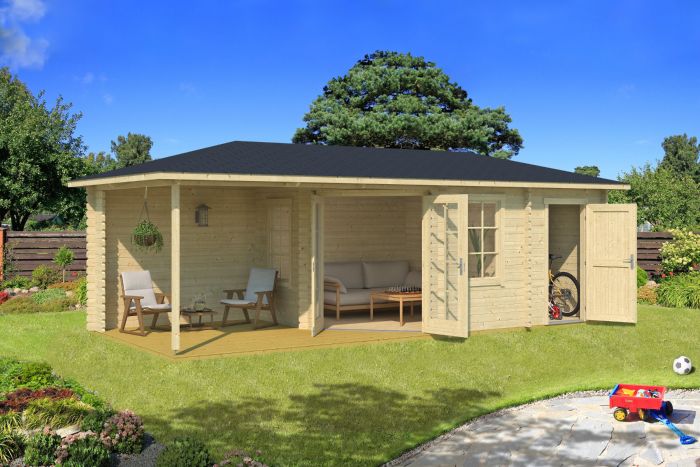 Timeless and traditional. Subtle and contemporary. Space saving corner. Sheltered canopy. Chalet style with veranda. Handy side shed.
These are just a taste of the variety of styles to consider when choosing a log cabin and deciding on the aesthetic you want to create in your garden.
And it's also worth thinking about what you are going to use your extra living space for and opt for a design that would best fit. For example:
a garden office would certainly benefit from a cabin with a large front overhang to protect the workspace and computer screens from glare from the sun
a fabulous alfresco dining area would be perfect in the space created by a veranda or canopy while enjoying protection from the weather and shade from the sun
Take a look at the list below highlighting some key style features to consider.
Traditional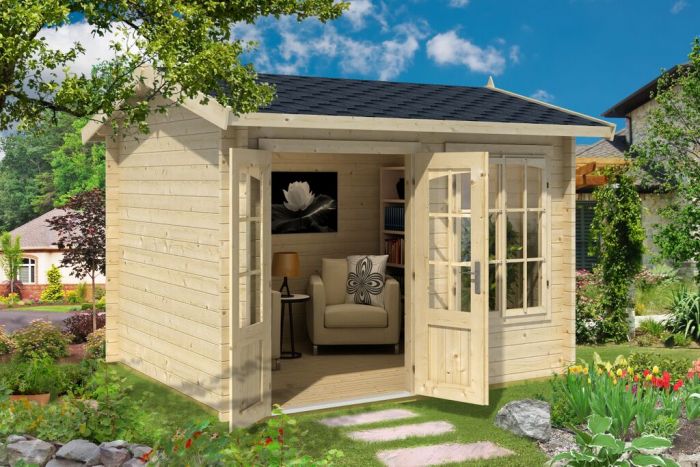 If you're wanting a timeless, classic look for your log cabin, an apex roof is certainly the design to go for.

Choose between an apex or reverse apex roof – see my blog What's the Difference Between an Apex Roof and a Reverse Apex Roof
To add to the character and create an authentic cabin feel, also consider:
Georgian style windows (made up of six or more smaller panes of glass held together by horizontal and vertical wooden bars)
Chalet cut corners (wind-tight chalet connection, making the corners of the cabin wind and rain resistant)
Shingled roof
Contemporary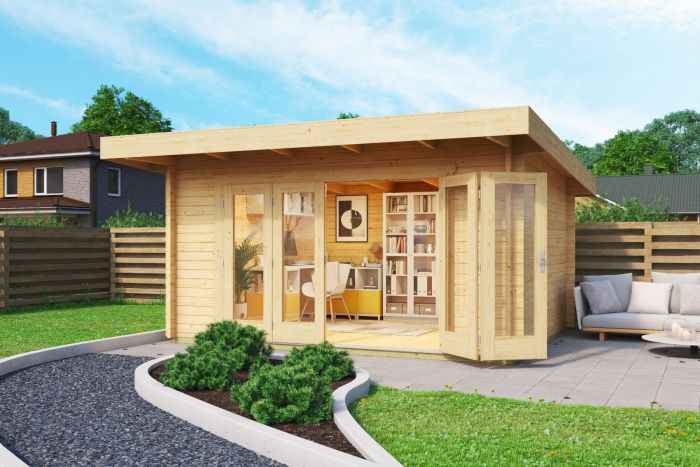 If you're after a fashionable, modern vibe for your garden, then why not plump for a stylish pent roof log cabin.
The sleek and chic feel can be further emphasised with features such as:
Full length, fully glazed windows and doors
Bi-fold doors (fully open and fold back, allowing plenty of light into the cabin and creating a real sense of being in the garden)
EPDM rubber roofing (a synthetic rubber roofing membrane in black/grey that will keep the cabin protected for 30-50 years)
Corner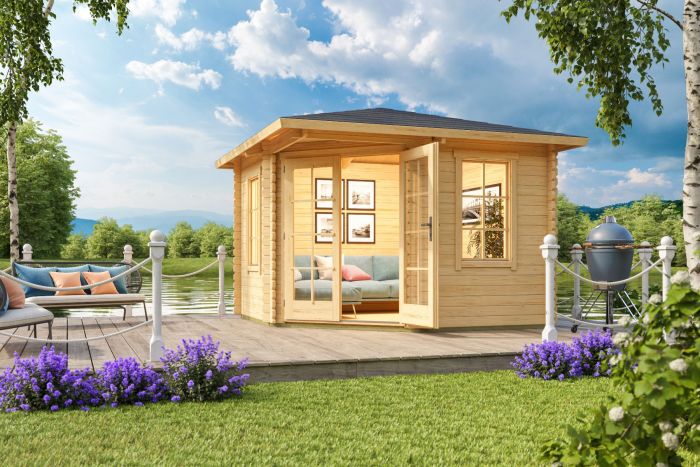 If space is an optimum in your garden, a corner log cabin is just the job.
Designed to sit snugly in the corner of your garden, these compact cabins are the perfect space saving way to get the additional outdoor living area you want but without taking up too much room.
Light and airy, corner cabins are also a fabulous place – with a the best vantage point – to enjoy views of your whole garden.
Canopy/Sheltered Terrace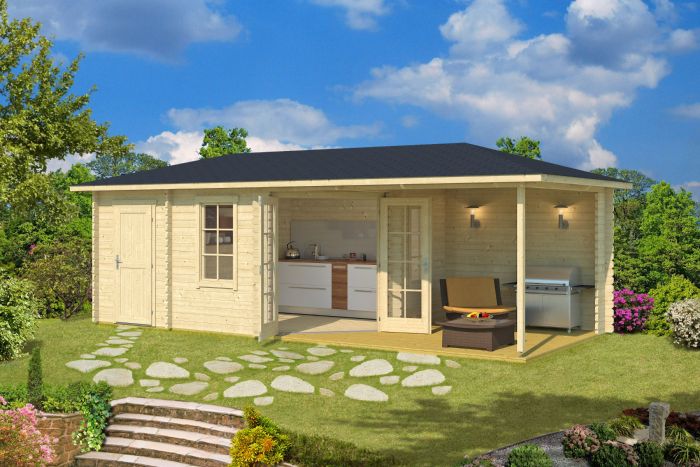 Cabins with a covered area to create a sheltered outdoor room are the perfect design for you to enjoy being outside without having to worry about the weather.
This sheltered room is perfect for garden furniture to create a fabulous, shaded spot for alfresco dining on a summer's day. Or add some comfy furniture to chill with a cuppa and a good book – or a G&T and a good friend!
Or why not use the canopy area to:
house a hot tub
store your bikes
keep logs
create a shaded area for your kids to play
The possibilities are endless.
Large Porch Roof Overhang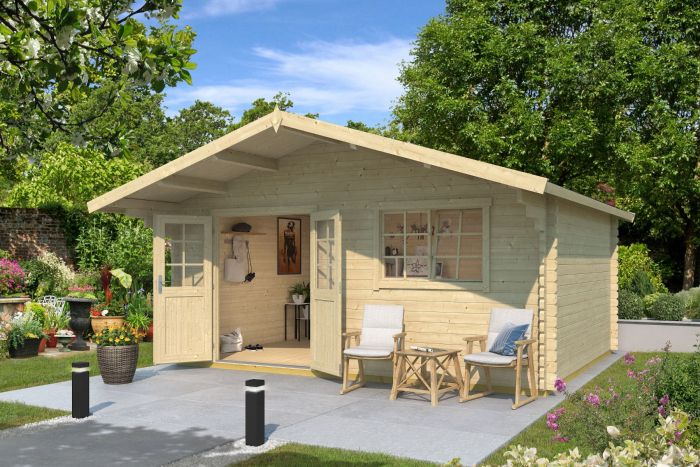 Not only a style that will certainly make an impact in your garden, the oversized roof creates a fabulous sheltered porch area you can use with garden furniture to sit under.
And on a practical level, the large overhang:
helps protect the outside of the cabin from the elements and weathering
helps reduce issues caused by water ingress and splash back
shades the windows from the sun and protects the inside of the cabin from dazzling light
This design is perfect for a home office with the overhang protecting the work area and computer screens from glare from the sun.
Cabin with Veranda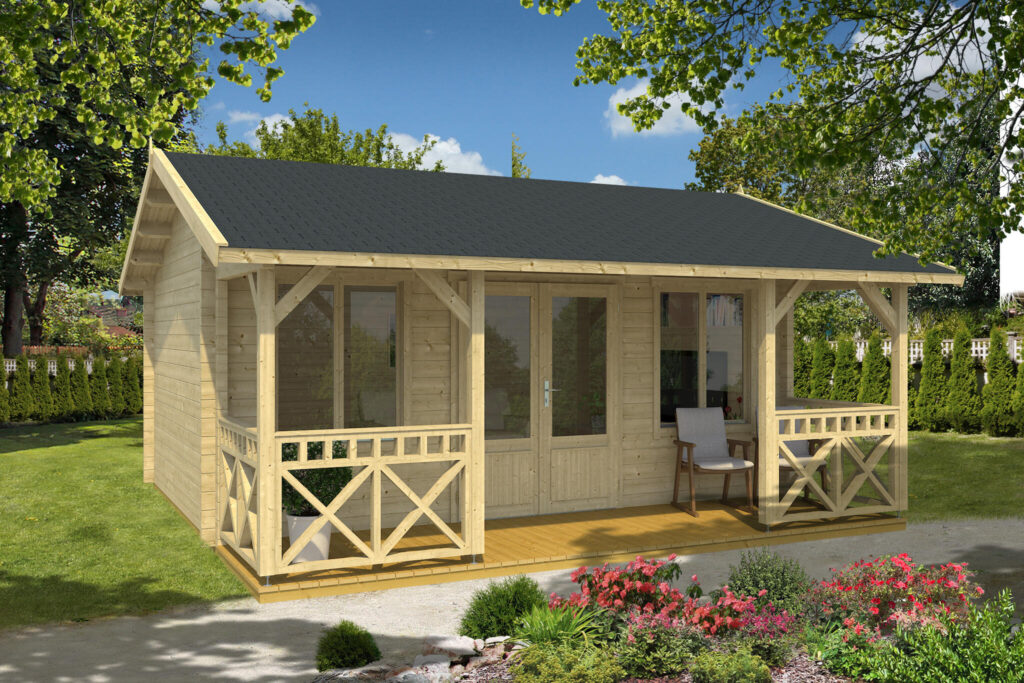 These cabins not only look impressive, the addition of a sheltered veranda increases the living area of the cabin and is a super way to bring the outdoors in.
Ideal for relaxing with some garden furniture to create a protected area to enjoy your garden from, shaded from the sun.
The veranda is also perfect for decorating with twinkly lights and brightening up with colourful potted plants to create a fabulous feature for your garden.
A good place for storing dirty shoes out of the cabin as well!
Integral Shed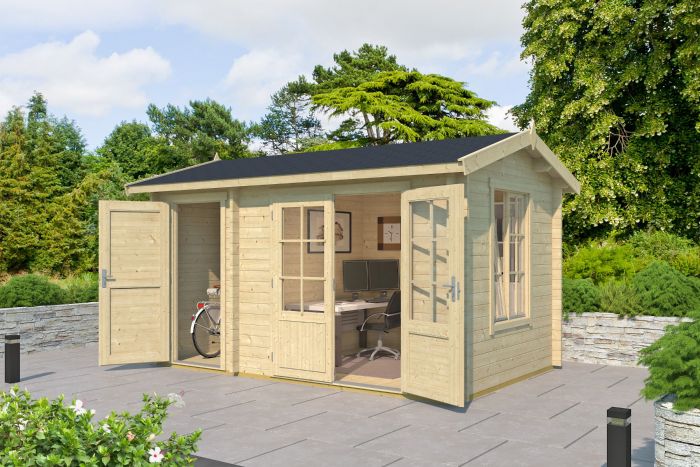 A practical way of maximising space in the garden with a side shed attached to the cabin. No need to buy two garden buildings when one will do!
Just the job for storing your garden tools, bikes, lawnmowers and furniture.
And with a lot of cabins incorporating internal doors between the main room and side shed, they are definitely worth thinking about for a garden office or home gym with easy access to a handy area for storing office supplies or gym equipment.
Hopefully this has whetted your appetite and given you a good idea of the various styles of log cabins available. Your perfect design is out there, waiting for you!!