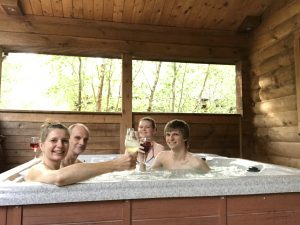 Oh yes. Definitely. Loving that idea.
There's nothing like a bit of self-indulgence.
Where better to end a stressful day than relaxing in a tub of bubbles, drinking bubbles?
A log cabin is a great place for a hot tub.
It gives you that bit of privacy, away from prying eyes of neighbours. And it means you can get all year round use of the tub whatever the weather.
So what things should you consider?
Getting The Hot Tub Into the Cabin
Be diligent with measurements.
It might be stating the blimming obvious but, when choosing a cabin, make sure the doors are big enough to get the hot tub through. Cabins with bi-folding doors will make things easier.
And some cabins with side verandahs lend themsleves perfectly to hot tubs: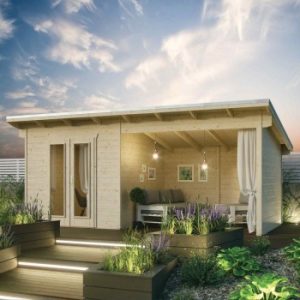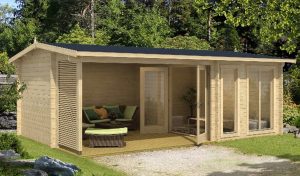 There is  always the option of building your cabin around the hot tub. But do bear in mind if you need to remove the tub for any reason that could cause issues.
Weight of the Hot Tub
Hot tubs are heavy. Hot tubs with water in them are even heavier.
A cabin with a sturdy, strong base and floor is therefore imperative.
To give you an idea:
2-3 person hot tub:
approx 317kg empty
approx 1,519 kg (1.5 tonnes) when filled with water
7 person hot tub:
approx 415kg (nearly 1/2 tonne)
appox 2041kg (2 tonnes) when filled with water
And don't forget to throw the weight of the people who are going to be enjoying the hot tub into the mix!
Ventilation
It's important to ventilate the cabin to prevent damage from the condensation created by steam from the hot tub.
Opening windows and doors  – an easy way of letting any steam out when you've finished in the hot tub. And on warmer days you could leave them open while you use it.
Use an insulated cover for your hot tub and keep this on when you are not using it to stop steam escaping, so preventing condensation (this also has the added benefit of keeping your tub hot, so you you use less electricity heating it!)
Top tip: treating the interior walls as well as the exterior with stain or paint will help prevent the build up of moisture.
Electricity Supply
You will need electricity connected to your log cabin to supply the hot tub.
Always consult a professional electrician for advice and to carry out any electrical work.
electrical supply required is 16, 20, or 32 amps, depending on the model
electricity consumption is 15 kw per day
For handy advice see How Much Does it Cost to Run a Hot Tub?