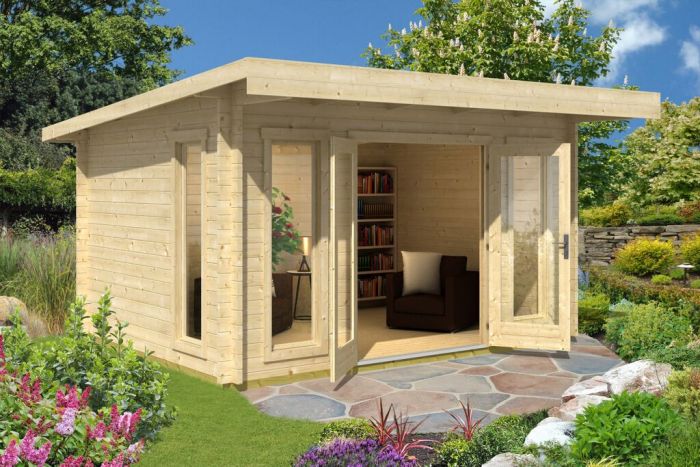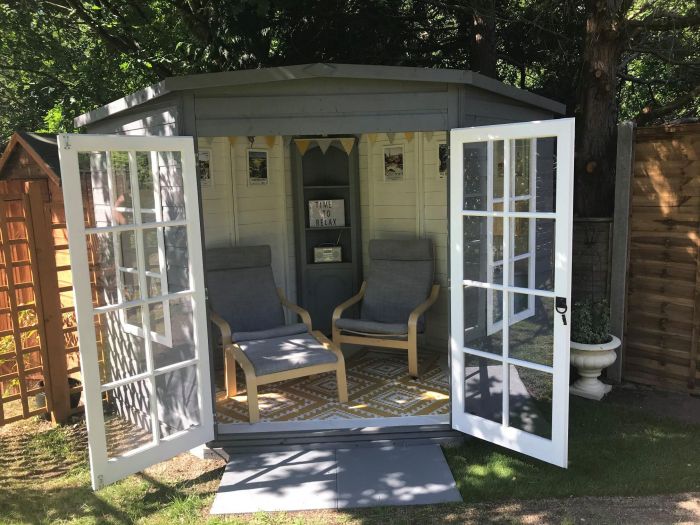 Additional living space in the garden? Yes please.

Add some comfy furniture and, voila! You've got just the spot to escape to on a summer's day with a pot of tea and the latest bestseller. An area to relax and enjoy the garden from with family and friends. Somewhere to unwind after a long day with a glass of fizz and bag of twiglets.

But are you simply wanting a bolt hole with some comfy chairs? Or are you thinking about utilising the space for a home office, gym or outdoor dining area with tables and chairs?

You can create your perfect garden room in a log cabin or a summerhouse. Both are just the job to provide you with the extra space to do whatever you want with.

However, out of the two, what are the differences in their shape and size? Which would be best to use all year round? How do their wall thickness and construction differ? Which is more expensive?

Take a look below at the main differences between a log cabin and a summerhouse to help you make an informative decision on which is the best for you.
Size

Log Cabin

With sizes ranging from 8ft to anything up to about 23ft wide, a log cabin provides ample space for a good sized living area or would be ideal to turn into a home office or gym.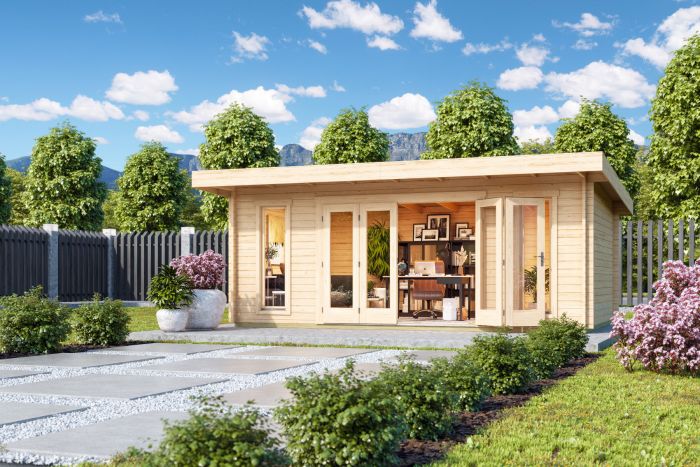 Summerhouse

Smaller and more compact than a log cabin, the size of a summerhouse can range from a cosy 7ft x 5ft to anywhere up to 12ft or 14ft wide. The most popular size for a small summerhouse is 6ft x 8ft, the perfect area for a homely garden room with a view with space for some comfy furniture or a small table and chairs for a spot of alfresco dining.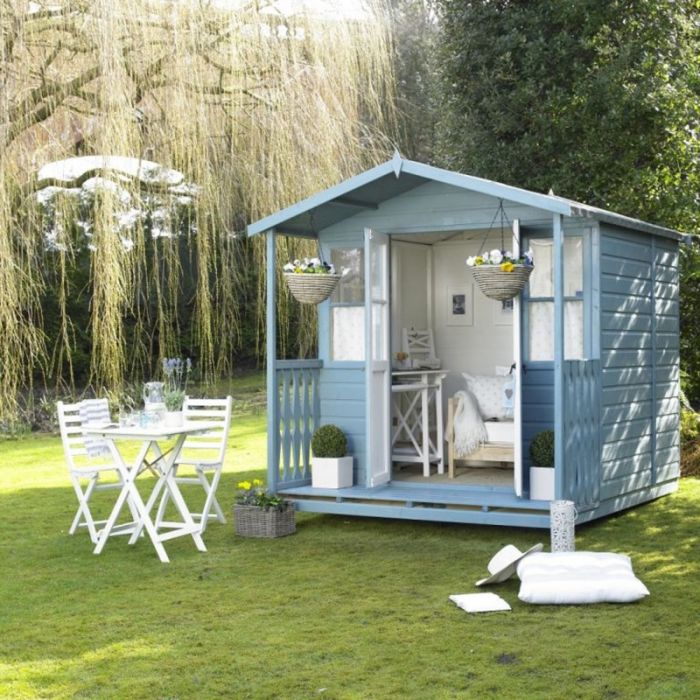 Log Thickness
Log Cabin
Compared with summerhouses, log cabins are built with thicker and heavier walls, more often than not using high grade, slow growing timber, eg. Nordic Spruce, where the grain of the wood is dense and particularly tight. The advantage of this is that there will be no warping or bending of the wood in the cabin walls, floors or roof. The thickness of the logs also provides more insulation and makes cabins an ideal garden building for use all year round. The thicker the log the more heat efficient it will be!
Log thickness for a cabin typically ranges from 28mm, 34mm, 44mm up to 70mm. For year-round use, you will need to choose at least 44mm thickness – the timber is thick enough to protect against heat loss and insulate the cabin in winter. Do bear in mind, however, that insulation and heat loss are not only dependent on the thickness of the walls – see my blog How to Insulate a Log Cabin for further advice on this.
Summerhouse
Summerhouses typically have a wall thickness of 7mm to 12mm which is ideal for the warmer summer months but not suitable for providing insulation for autumn and winter.
Construction
The cladding on a log cabin or summerhouse is how the timber boards are constructed to form the walls.
Log Cabin
Solid logs – A defining feature of almost all log cabins is their construction using solid logs with overlapping corner connections with the logs stacked on top of each other. This creates a sturdy and durable garden building, excellent at withstanding the elements. It also gives cabins their traditional look.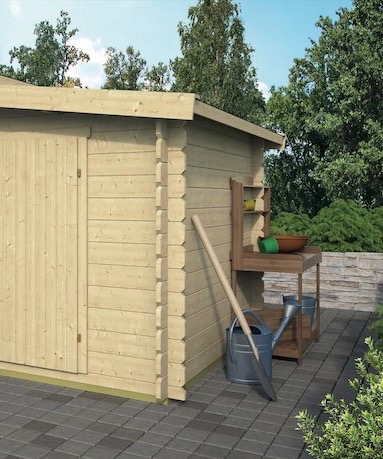 All our Lasita Maja cabins have wall logs made from windproof angle profiles with a wind-tight chalet connection, making the corners wind and rain resistant.
Solid log cabins are delivered with individual boards for construction.
Summerhouse
Summerhouses are constructued using either shiplap or tongue and groove cladding.
Shiplap – a traditional style of cladding with a slight indent along each board to create an overlapping/interlocking edge which enables rainwater to easily run off the garden building. Extremely weather resistant.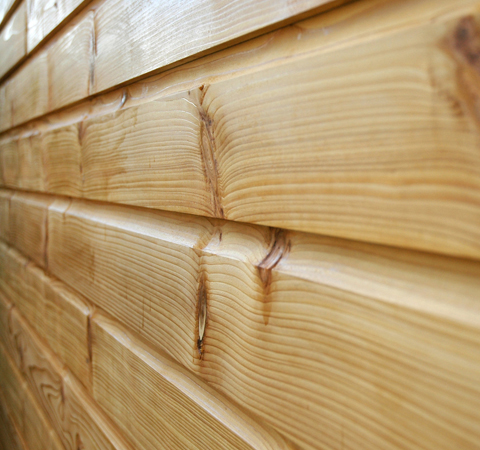 Tongue and groove – cladding boards created from planks of wood that slot into, and interlock with, each other leaving no gaps to create a flat wall. Each piece has a slot cut along one edge known as the groove. The opposite edge has a thin, deep ridge called the tongue which slots into the groove of the adjacent piece creating a very tight seal. Extremely strong, durable and weather resistant due to the interlocking design preventing moisture and draughts getting into the building.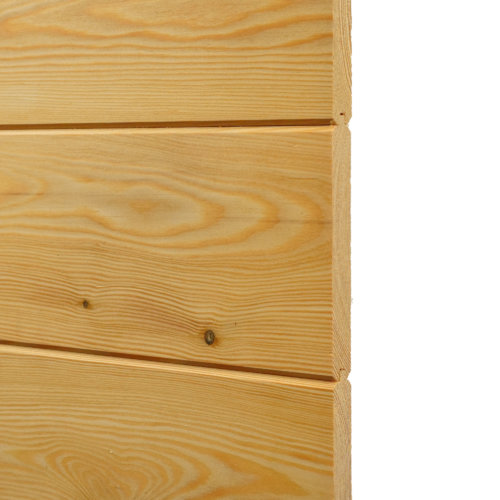 Summerhouses are delivered with pre-assembled panels.
Shape/Design
Log Cabin
As a rule, log cabins tend to have a traditional feel due to the style limitations created by their overlappling corner connection construction. This generally means they are square or rectangular in shape with an apex or reverse apex roof.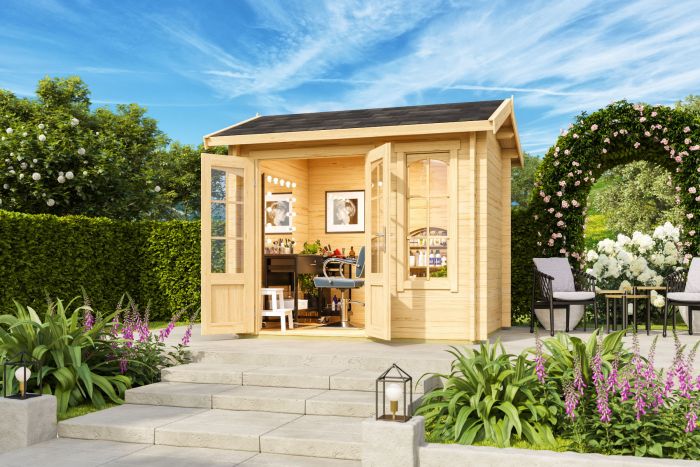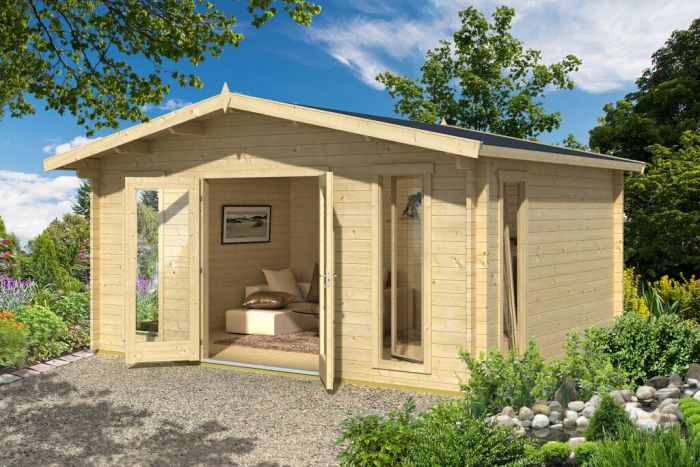 Of course, having a traditional square or rectangular shape does not mean it has to be traditional in look and feel. Cabins with a modern design are available with stylish pent roofs, bifold doors and large, full length windows.
The size of a cabin can also make an impact on its design with the interior divided into rooms. Or specifically designed to be multi-purpose with a separate side shed attached, ideal for storing your garden bits and pieces.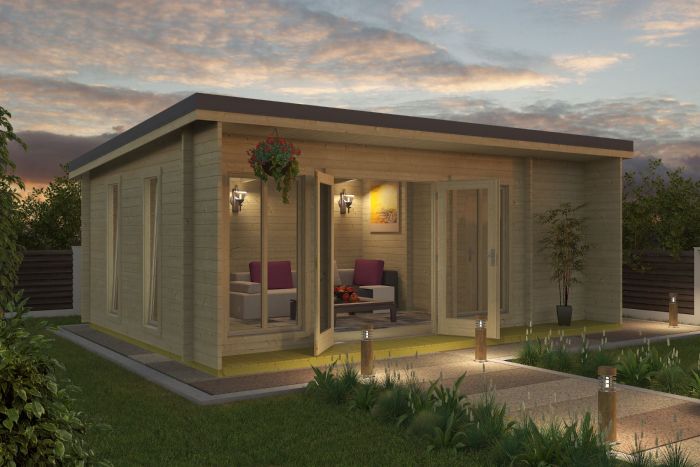 Corner cabins, cabins with verandas and overhanging roofs, and cabins with sheltered outdoor areas (perfect for a hot tub!) are also a variation on the traditional style that are available.
Corner cabin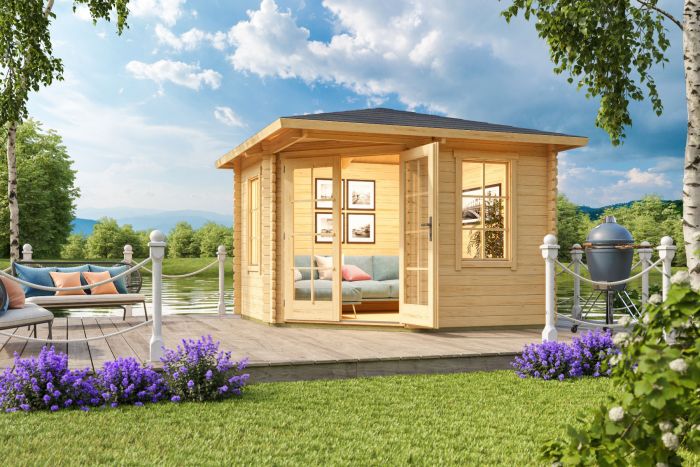 Contemporary with veranda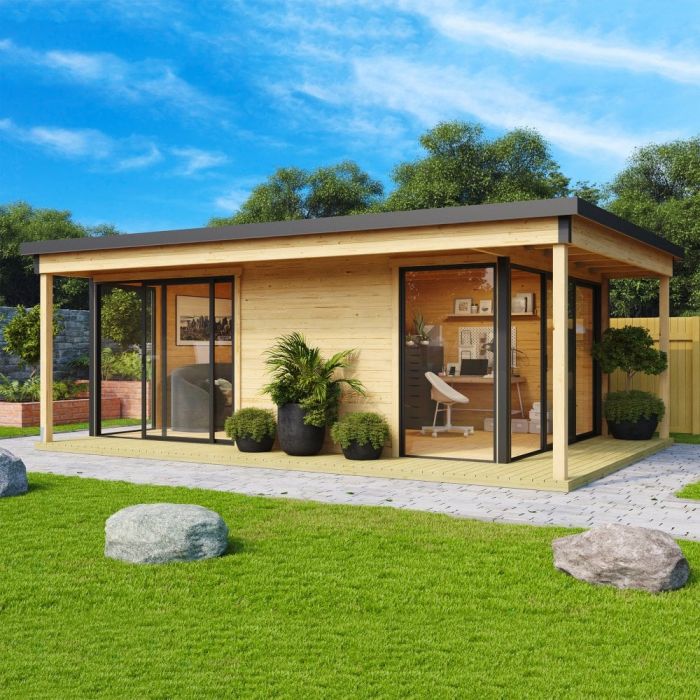 Summerhouse
Summerhouses do not have the style limitations of a log cabin and come in a greater range of shapes. Traditional or contemporary in design, square, rectangular, octagonal, hexagonal and corner are just a few of the styles available with apex, reverse apex or flat roofs.
The traditonal square or rectangular summerhouse with double doors and an apex roof are also often available witha veranda as an additional option.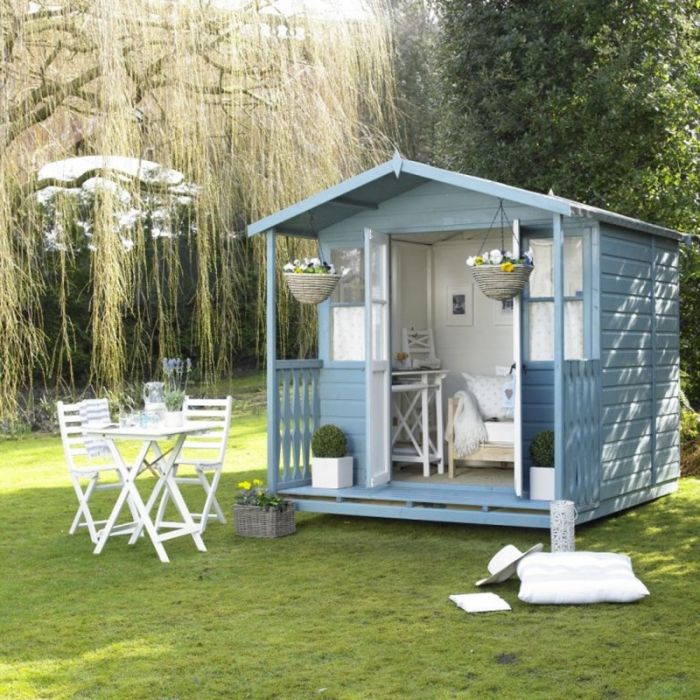 Corner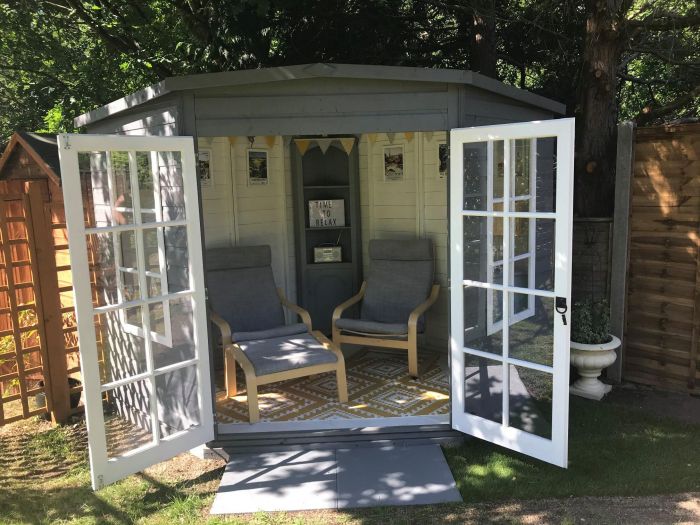 Contemporary styles include bifold doors, pent roofs and large, full length windows.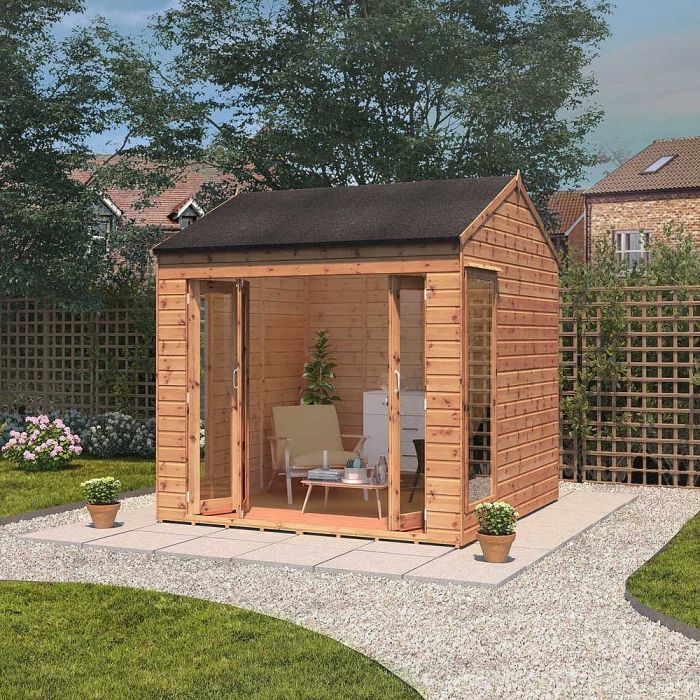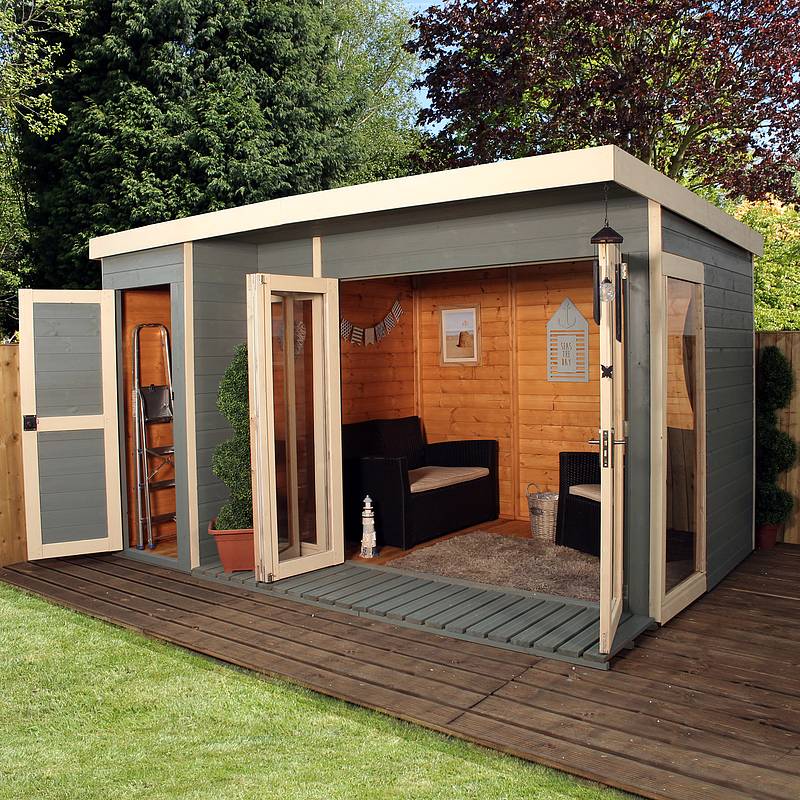 Although the interiors are too small to be divided into rooms, summerhouses are available with side sheds attached for handy additional storage space.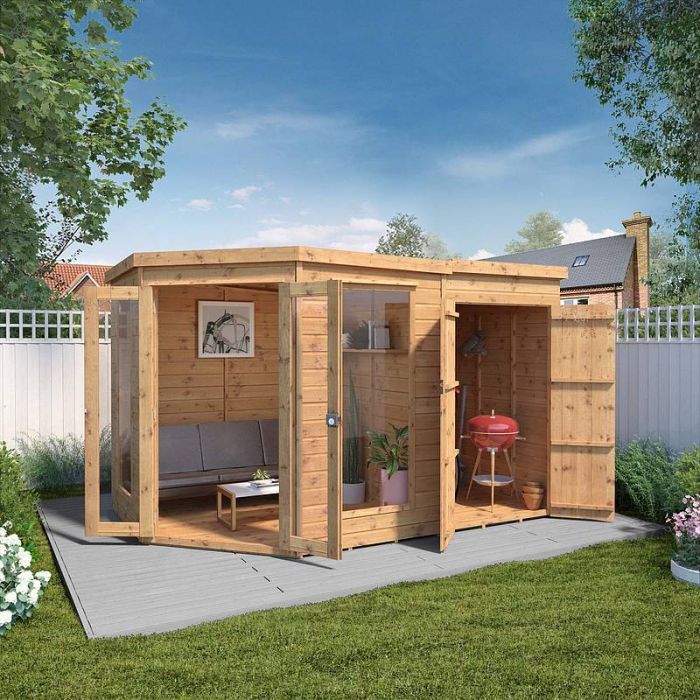 Cost
Log Cabin
On average, a log cabin can cost between £3,000 – £6,000 depending on size.
The price reflects:
Size
Wall thickness
Sturdy construction
All year round use
Double glazing option as standard in a majority of cabins (as an example, all our Lasita cabins come with double glazed sealed units in various thicknesses fitted with rubber draught excluders and aluminium water gutter)
Summerhouse
On average, a summerhouse can cost under £1,000.
The price reflects:
Smaller size than a cabin
Thinner walls
Designed for the summer months only
Single glazing, often styrene safety glass