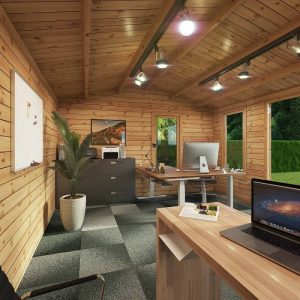 Roadworks.
That's reason enough to think about leaving the work commute behind and setting up at home.
And that's where a garden office would come in very handy. A dedicated work space in your garden, away from the distractions of home life.
Just imagine setting off to work through the back door and strolling down the garden path, the only diversions being the odd flowerpot or snail, and being at your desk in under a minute.
This doesn't have to be a pipe dream. This can be a reality. And here's where I can help with some pointers to guide you in the right direction.
So, where to start?
Type of Cabin
Planning Permission
Location
Insulation
Heating
Electricity
Lighting
Internet Connection
Security
Type of Cabin
Small Office – ie. a compact, 3m x 2m cabin will give you a cosy working space for a desk and office essentials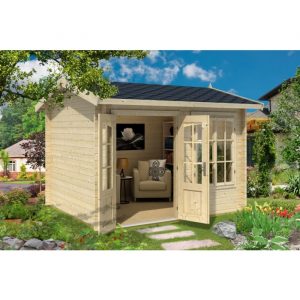 Medium Sized Office – ie. a 4m x 3m cabin with larger space for 2 desks and more office equipment, storage, filing cabinets, etc.,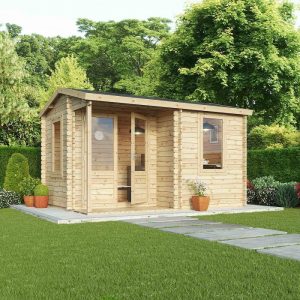 Large Office – ie. 6m x 3m cabin with one large room offers plenty of working space and storage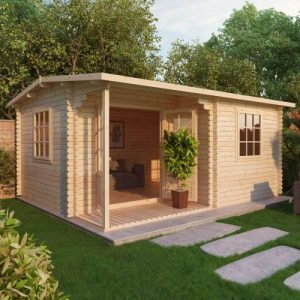 Multi-Roomed Office – with 2 or 3 rooms ideal for keeping your storage separate and your working area tidy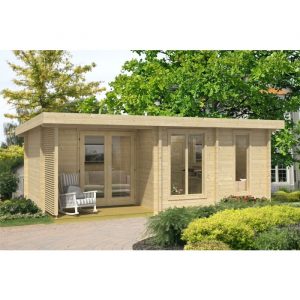 You may want to take a look at the Mercia Home Office range which have been designed with garden offices specifically in mind.
Planning Permission
A log cabin does not require planning permission. It is classed as an outbuilding which is regarded as a permitted development on your property provided the log cabin meets all the conditions that are laid down under planning laws.
See my blog Do I Need Planning Permission for My Log Cabin for advice on this.
If you are in any way uncertain, it is best to seek advice from your local planning department. Guidelines can vary in different parts of the UK so it is always advisable to check with your local planning officer to see which rules apply where you are.
The Government's Planning Portal gives good advice on Planning Permission and working from home
Building regulations do not apply. This only has to be considered for buildings containing sleeping accommodation.
Location
Consider the distance from the boundary of your property (see planning permission) and how the building might affect your neighbours
Leave at least half a metre around the cabin so you can move easily for any maintenance that needs doing and for applying treatment and paint
Choose a position that gets plenty of natural light although be aware of direct sunlight streaming straight onto your desk. North-facing light is good as it minimises direct sunlight and it's worth thinking about cabins with roof overhangs to reduce summer glare and add some shade
If installing electricity, consider if there are any limitations on where you position the cabin – it might be worth checking with a qualified electrician about this
Think about laying a path to the door to prevent the grass from being churned up from walking there daily – and to prevent walking mud into your office
It's vital to make sure your log cabin is pleasant and comfortable to work in all year around so consider good insulation and heating:
Insulation
Logs act as good thermal insulators so it stands to reason that the thicker the log the more heat efficient it will be – 70mm log cabin will therefore retain heat better than a 28mm log cabin due to its increased wood density
44mm or 70mm are ideal for year-round use
Draft proofed double glazed windows and well insulated doors will help to keep the cabin warm
Add some underlay and carpet to your log cabin floor for a simple way to add some warmth
Hang some curtains at the windows to keep any draughts at bay
See my blog How to Insulate a Log Cabin for advice on this
Heating
Various possibilites:
Electric convection heaters (free standing or wall mounted) – thermostatically controlled, they heat the air quickly, usually with 24-hour timers – ideal for year-round use. Relatively cheap to buy and install.
Electric radiator (wall-mounted) – can be linked to a thermostat and timer, however they are slower to heat up than convection heaters with slightly less temperature control
Electric oil filled radiator (tend to be free standing) – can be linked to a thermostat and timer, the oil retains heat thereby keeping the cabin warm for longer after they are switched off. Low cost with no installation.

Underfloor heating – effective as a secondary heat source and lovely underfoot! Suitable for a majority of log cabins, electric underfloor heating uses a mesh element fitted below the floor. This will need an additional floor covering. More expensive to install than heaters and bear in mind the floor would have to be lifted if there were any maintenance problems.
Electricity
Consider what equipment will be run off the electricity supply, ie. computers, printer, lighting, kettle, and how many sockets and light switches will be needed
If running an ethernet cable for a Wi-Fi connection, it would make sense to lay this at the same time as the power cable (see Wi-Fi section below)
Lighting
Choose a cabin with plenty of windows and glazed double doors to provide good natural light during the day – it might be worth installing blinds to give you some shade on brighter days
By installing mains power to your cabin it will enable you to choose a variety of lighting options which suit your needs, ie. spotlights, desk lamps, fluorescent striplighting or recessed downlighters (be aware that the downlighters will require an interior ceiling)
Consider exterior lighting too which is important if you are working into the evenings and walking back and forth to the cabin when it is dark
Internet Connection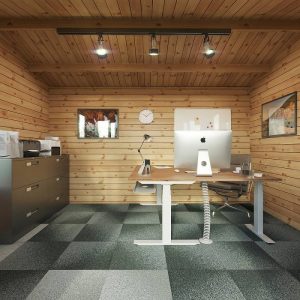 A reliable internet connection is a must for most garden offices.
The easiest solution would be to extend the Wi-Fi signal from your broadband router in your house to the garden office.
However, on the whole, the signal won't be strong enough to reach or if it does would be very weak which would make it difficult to work.
There are a number of solutions that will overcome this:
Wi-Fi Extender
This connects to your existing Wi-Fi network and extends the signal to create a hotspot or bridge between the main router and the log cabin
Plug the extender into a mains socket that is as near to the cabin as possible – this  "bounces" the signal and creates an additional Wi-Fi network which you can connect to from in the cabin
Cheap and quick to install
Only effective within a relatively short range (around 30m) so they are only suitable for garden offices close to the house
Powerline Networking
Powerline adapters send the signal from your router through your cabin's electricity supply by an electrical power cable between your house and cabin
Relatively cheap and easy to install
Ethernet Cable
Considered the best option for a reliable, fast and secure internet connection
An ethernet (also known as a network) cable is run from your internet router and can be connected directly to a PC or laptop, or to a switch for connecting multiple devices, or a Wi-Fi access point for convenience.
It would make sense to lay the ethernet cable at the same time as the power cables when supplying electricity to the log cabin – you must ensure there is a 30cm gap between power and ethernet cables to prevent interference, especially over a long distance

Important to ensure the exposed cable between the house and cabin is shielded from the elements or buried deep underground so there's no danger of it being severed by digging – this may require a professional installation
Wi-Fi Point to Point
Similar to a Wi-Fi extender but more advanced, reliable and with a greater range – works well over longer distances
Two units are required – one attached to your house and connected to the home network which transmits the signal to the second device that is mounted in the log cabin
Make sure there is a clear line of sight between the two units to ensure optimum effectiveness and no interference with the signal from trees and other garden buildings
Some configuration may be needed to enable the two units to communicate correctly
Security
With valuable office equipment in the cabin, security is a must. Garden offices can be easy targets for burglars, especially if built any distance from the house. Consider:
Fitting a PIR (passive infra red) light and alarm sensors
Fitting door and window locks – make sure they meet your insurer's standards (BS 3621 is usually cited)
Having an alarm system linked to the house
Window shutters – an attractive and effective security measure
Planting 'defensive' prickly or thorny plants such as holly, berberis or pyracantha which can act as effective deterents when planted strategically, ie. underneath windows.
Spreading crunchy gravel around the cabin or creating a gravel path which makes approaching the cabin inconspicuously impossible!
Buying metal security casings for PCs and lock these to the walls