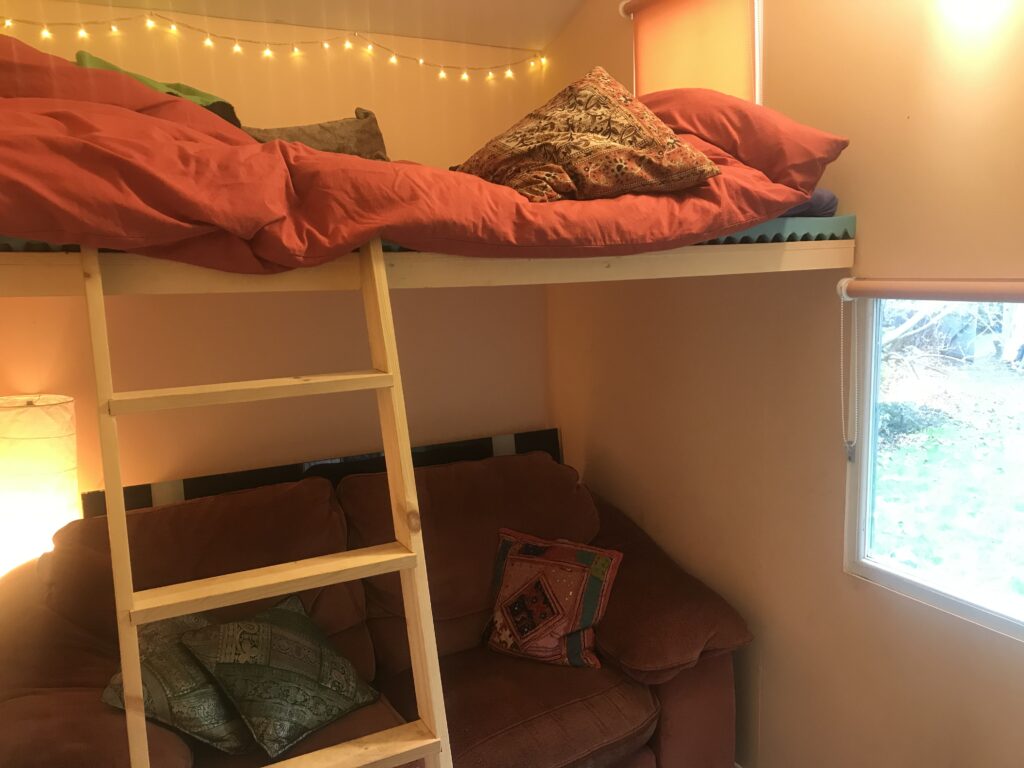 Longing for peace and quiet away from your snoring other half?
Fed up with noisy teens who haven't grasped the idea of going to bed before 4 in the morning?
Not enough bedrooms for friends and family to crash out in after a boozy evening?
Two words spring to mind. Log cabin.
By turning an outdoor living space into an outdoor sleeping space, problems solved.
A cabin is just the job if you're wanting to use it occasionally for sleepovers or as a more permanent set up as a guest bedroom or self-contained accommodation.
So what do you need to consider?
First things first…
Will You Need Is Planning Permission?
No. And yes.
It depends on whether you are planning use your cabin to sleep in occasionally or regularly or create self-contained accommodation.
Occasional sleeping – Planning Permission is not needed.
Regular sleeping – Planning Permission is needed.
Both do need to comply with Building Regulations – these ensure the building meets the current standards for foundations, damp proofing, insulation, ventilation, heating, electrics, fire protection and means of escape in case of fire and the overall stability of the building.
See my blog Do I Need Planning Permission to Sleep in My Log Cabin for advice and more information on this together with advice about council tax if you create self-contained accommodation.
So once you have got your head around this, what else needs to be considered?
Keeping Your Cabin Warm
Thickness of Logs – a good starting point as these act as good thermal insulators. The thicker the log the more heat efficient it will be – no surprise there then!
So bear in mind that a 70mm log cabin will retain heat better than a 44mm log cabin due to its increased wood density.
Double Glazing – with up to up to 15% of heat loss occuring through poorly fitted and inefficient windows, double glazing ensures significant heat retention and is a good way to keep draughts at bay.
Insulation – even with thicker logs and double glazing, up to 70% of heat will be lost through the roof and the floor.
So the real difference comes from fitting floor insulation directly under the floor boards and between the floor joists together with roof insulation above the roof boards.
Floor and roof insulation kits are available and are very often an optional extra when buying a cabin – all our Lasita Maja log cabins come with this option. See my blog How to Insulate a Log Cabin for advice on this.
Heating Options – whether you are running electricty to your cabin or not, there are a variety of heating options you can consider.
With electricity supply:
convention heater
radiator
fan heater
halogen heater
underfloor heating
Without electricity supply:
log burning stove
solar powered heater
See my blog How to Heat a Log Cabin for further information on all of the above options.
And for added warmth, don't forget rugs, curtains and carpets.
Running Electricity to the Cabin
Having a source of elecricity not only helps with the heating options, it's essential for lighting.
And consider the amount of sockets that might be needed, ie. for charging phones, a tv and CD player, wine fridge!
By consulting a professional electrician, running a safe, reliable electricity supply to your cabin can be straightforward and hassle free.
See my blog Running Electricity to a Log Cabin for further advice on this.
What About a Toilet/Bathroom?
This obviously depends on what you are wanting to use the cabin for:
Occasional sleeping – it's possible to just nip into the main house to use the toilet and bathroom and you can just make the cabin a cozy place for sleeping.
Self contained accommodation – a toilet and bathroom would be needed.
Adding a toilet, sink and shower and connecting them to the main sewer does require Planning Permission.
You will also need to apply for Building Regulations.
Considerations:
Water/Drainage Connection – bear in mind you will need easy access to connect the drainage for the supply of fresh water from the mains and the removal of wastewater. The waste will need to be carried away and will involve connecting up to the nearest sewer. This will need to be signed off by Building Regulations.
Ventilation – if you are thinking about adding a shower, it is essential to keep the cabin well ventilated to prevent moisture and condensation building up and causing damp. Windows do provide a certain amount of ventilation but to prevent condensation and mould it's advisable to install an extractor fan and air vents – see my blog How to Prevent Damp in a Log Cabin for more information on this.
Installing Hot Water – it will be necessary to install a hot water tank – on a smaller scale than the one in your home. Seek a plumber's advice and recommendations.
One last thing to consider if turning your cabin into a self-contained building or guest bedroom – soundproofing. Just in case your guests want to play music or watch a movie late at night. Beware the neighbours! See my blog How to Soundproof a Log Cabin for advice on how to do this.
So, bottom line, a log cabin is an excellent space to utilise for sleeping in. Perfect for somewhere to use now and again. Or, depending on the time and commitment you want to give it, go the whole hog and create self-contained accommodation. Either way, additional sleeping space in your garden is a big plus!