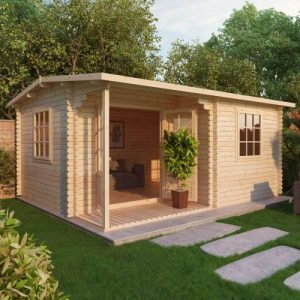 Yes. And no.
It very much depends on whether you, friends, family or banished other halves who snore are planning to sleep in the log cabin occasionally.
Or whether you are wanting to turn your cabin into somewhere to sleep regularly or create self-contained accommodation.
Occasional Sleeping Accommodation
If you fancy putting a sofa bed in your cabin so you have extra room for guests to spend occasional nights in there – or your teenagers fancy having friends over for a sleepover – you do not need Planning Permission.
However, the log cabin must comply with Building Regulations. These control the quality of the building's structure, ensure it is safe for sleeping in and cover all aspects of construction including:
Foundations and floor construction
Stability of the building
Ventilation
Heating
Fire protection
Means of escape in case of fire
It's important to seek the advice of your local planning authority. When the work has been completed to the correct standard, the building will be inspected by the relevant authority and you will be issued with a certificate.
Regular Sleeping Accommodation
If you are wanting to turn your log cabin into somewhere that can be regularly slept in, or into self-contained accommodation, your cabin must comply with Building Regulations AND you must apply for Planning Permission.
If you contact your local planning department they will be able to help you with this. And it would make sense to get in touch with them before you buy and install your cabin to check all is OK.
Council Tax
If you create self-contained accommodation in your log cabin, please bear in mind that you may be required to pay additional council tax.
It's important to understand that Planning Permission and Building Regulations are not the same thing.
We recommend you always check with your local planning office for advice.