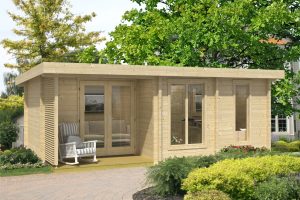 A classic look. Or a sharp, clean, modern feel.
Are you wanting a log cabin with the traditional, timeless appearance of an apex roof?
Or the subtle, contemporary design of a pent roof?
Of course, it's very much down to personal taste and the aesthetic you want to create in your garden.
But it's not just about looks. There are other pointers to think about.
Height. What are you going to use the cabin for? For example, will you need extra headroom if you're thinking about including a stepper machine in a home gym?
And the height of the cabin roof is an important consideration with Planning Permission – see my blog Do In Need Planning Permission for a Log Cabin for advice.
Apex Roof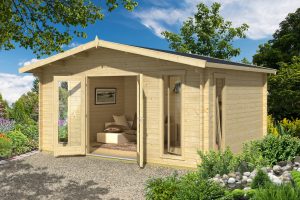 Traditional, classic style
'A' shaped sloping roof
Maximum height runs centrally from the front to the back of the cabin
Plenty of headroom from the additional height in the centre
Sheds water effectively
Robust
An apex roof has 2 sloping roof surfaces that meet at the highest point in the middle of the roof. Generally the angle is equal on both sides.
The sloped edges enable water to run off easily and so helps prevent water damage, reduces maintenance and keeps the struture of the cabin stronger for longer.
With plenty of headroom, particulary in the centre of the cabin, a log cabin with an apex roof is ideal to fit in tall equipment needed for a home gym.
Recommended roof covering for apex design:
Bitumen felt shingles – premium protection, easy to fit and available in a choice of colours – will keep the cabin protected for up to 25 years.
Pent Roof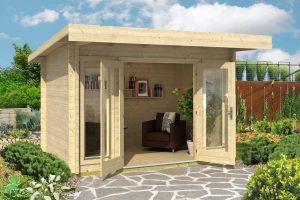 Stylish, chic design
Contemporary feel
Single flat panel for the roof with a slight gradient from front to back
Maximum height the full length of the front of the cabin
Ideally suited to be within the permitted development height of 2.5m when considering Planning Permission
A pent roof slopes from the front of the cabin to the back allowing rainwater to easily run off one side. This makes it easier to collect rainwater as it only requires one gutter run.
More compact than a cabin with an apex roof, a pent roof cabin can be more easily situated under trees and overhanging branches.
Recommended roof covering for pent design:
EPDM – a synthetic rubber roofing membrane in black/grey used in the commercial industry for over 50 years. Applied to the roof in one piece so there are no joins to worry about, eliminating the risk of leaks developing in weathered or badly sealed felt joints. Will keep the cabin protected for 30-50 years.

See our complete range of distinctive, stylish pent roof cabins