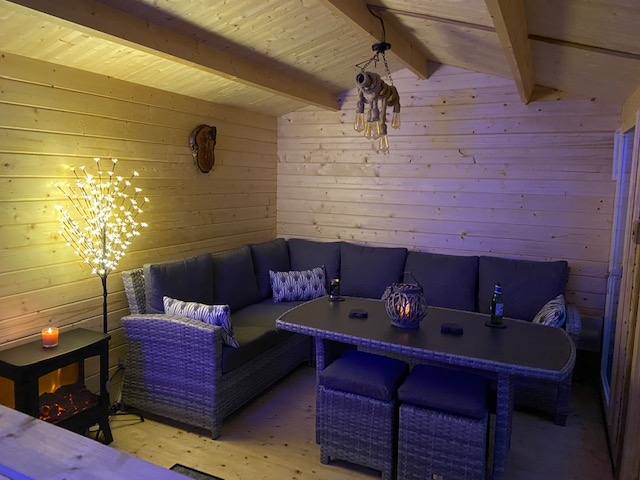 You've thought long and hard and invested in your dream cabin. Found the perfect style for your garden. Decided how best to use this fantastic additional living space. Chosen the ideal roofing. Treated the timbers to give it the highest quality and longest life possible.
Now it's time to give the inside of your cabin some TLC.
You may consider leaving the interior walls and floors untreated. However, choosing a treatment does help to protect the wood, keeping the inside of your cabin both well maintained and easy to clean.
Timber is like a sponge that tries to reach a moisture content balance with its surrounding environment, expanding when it absorbs more water. Cracks and splits are a normal occurence in timber as it tries to move, swell and shrink to match its surroundings. This shrinking and shifting in the timber can create gaps.
Sealing the wood with a treatment reduces any potential moisture absorption.
Enhancing the natural beauty of the interior timbers' woodgrain is also another consideration, adding to the classic, rustic feel of a log cabin. This is best done with wood oils.
Or if you feel like stamping your mark and giving some personality to your outdoor living space, why not add a splash of colour with some paint and enjoy!
Interior Walls and Ceiling
Wood oil or paint.

Either option is just the job for your cabin's walls and ceiling, protecting the wood from both dirt and moisture.

Wood Oil

Long lasting and durable, interior wood oils are not only spot on for keeping your walls protected and making cleaning easier, they are a fabulous way to enhance the texture and beauty of the wood and keep a natural feel.
Wood oils penetrate the timber, replacing and replenishing the wood's natural oils to add protection.
*Recommendation* – Osmo Polyx Oil – a hard Wax Oil which is a modern alternative to teak oil. Manufactured from a blend of oils, waxes and resins, providing increased protection and longevity within 2 coats. Hard Wax Oils are liquid repellent and resistant to dirt, dust and other marks.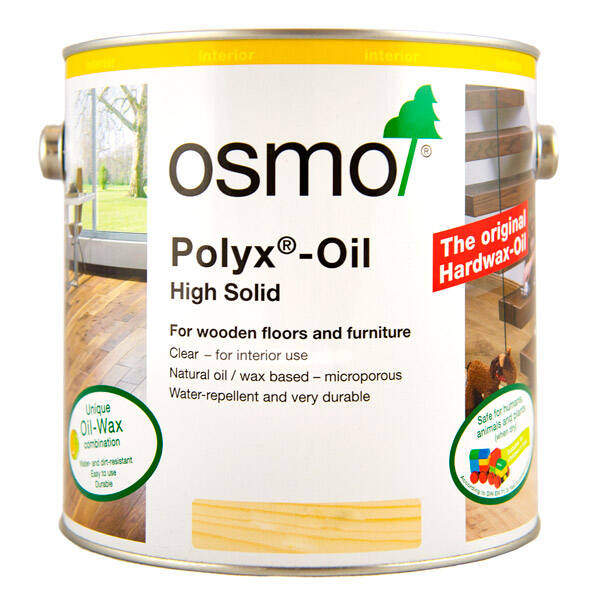 Clear hard wax oils have a tendency to darken the wood. If a natural, untreated appearance of the wood is wanted, it is best to use the raw or natural versions.
*Recommendation* – Osmo Polyx Oil Raw
Paint
Adding some colour can really zhuzh up the inside of your cabin, bringing your living space to life and creating a bright and homely atmosphere. Depending what you are wanting to use your cabin for, you may be after a cosy, relaxing space with warm oranges and yellows. Or want to design a more contemporary environment with white or cream walls which will really create a feeling of space and open up the inside of the cabin. The world really is your oyster and the ideas limitless. Have some fun!
Due to the highly absorbent nature of the wood, bear in mind you will need to apply two or more coats, using a wood primer if the log walls are particularly porous.
As the exterior and interior walls of a log cabin are built from the same piece of wood, it is recommended to use exterior wood paint on the inside to help provide resistance to moisture getting through and therefore protect against damp.

Recommendation: Cuprinol Garden Shades Water based, easy to apply and available in a wide range of fabulous colours.
If the walls are insulated and sealed from moisture, almost any kind of paint can be used. Kitchen or bathroom paint is always a good option, however, as it is designed to wipe clean. =
Top tip – the timber will have slight surface variations which will be difficult to cover with a roller. A brush would work best.
Floor
To prevent grime, dirt and moisture infiltrate the floor and ruin it over time, it is essential to protect and seal the wood with a floor oil.
This will also help to maintain the floor and keep it clean.
Floor oils are available in a range of different finishes and can be used on both softwoods and hardwoods. The oil brings out the characteristics of the wood grain and gives a fabulous finish to the floor.
*Recommendation* – Osmo Polyx Oil – as recommended above for the walls