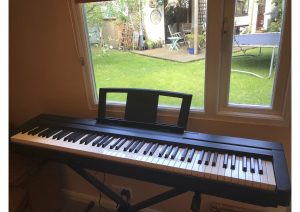 The reality of singing like Ariana or playing drums and guitar like Dave Grohl might not quite live up to your aspirations – much to the rankling of your family and neighbours!
So creating an outdoor music room or studio in a cabin at the bottom of your garden, out of earshot, where you can sing or play to your heart's content, is just the job.
And for your dignity, as well as the sanity of your neighbours, by adding effective soundproofing you'll be able to make sure as little noise as possible escapes!
You'll not only have to consider the walls. Noise can escape from the doors, windows, flooring, roof – and even the key locks!
And although it's not going to be possible to 100% soundproof your cabin, by following our advice below you will be able to reduce the noise level substantially.
A good starting point is to consider the glazing and log thickness of the log cabin. The thicker the log, the better the insulation so it would be advisable to opt for a 70mm cabin with double glazing to give you a head start.
Soundproofing Walls
Without doubt, walls are the biggest factor when it comes to soundproofing your cabin.
There are a number of methods to choose from:
Acoustic foam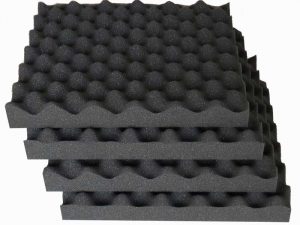 A straightforward way to soundproof your walls, these are big squares of insulation with adhesive on the back that you can stick to the walls.
Buy them here: Acoustic Foam Tile Panels
This can be pricey so you may want to use this cheaper alternative:
Regular insulation
Although not as effective as specialised materials, this will certainly help to reduce the amount of noise escaping.
Tack the insulation to the wall
Cover with plasterboard screwed to the beams of the cabin wall (the plasterboard will add another layer of soundproof protection).
Top tip: use as few screws as possible whilst maintaining a safe build as sound can escape through the screw fittings.
Damping
Damping is an extremely effective method of neutralising sound in your cabin.
It creates a sandwich effect with 2 firm panels such as MDF, plywood or drywall, and a filling of compound known as 'damping'

Green Glue Noiseproofing Compound is considered the most effective damping compound on the market – it absorbs sound waves and converts them into heat energy. Recommended 2 tubes for a 4 x 8ft panel
The sound is neutralised by converting the kinetic energy (the energy of mass in motion) in sound waves to heat so, rather than blocking sound from transmitting through a surface, it works to reduce resonance (caused by soundwaves bouncing off flat surfaces) inside a room.
This sound barrier can then be added to any area of the cabin, ie. the floor, walls, ceiling or even the door.
Use of this double wall with the damping compound creates a completely separate "room within a room" and is super efficient. If you use this correctly wall to ceiling your cabin will be extremely well soundproofed.
Ready-made panels of soundproof drywall are available to buy but this will be more expensive and less effective.
The downside of simply adding to the existing walls by attaching panels is the possibility of losing part of the soundproofing effect as it allows vibrations to travel through the wall's frame.
An important element of this structure, therefore, is a procedure known as decoupling.
Decoupling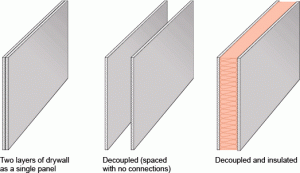 This is one of the most effective soundproofing methods.
It involves:
Separating the 2 walls from each other so that they are not directly nailed together.
It can be made more effective by filling the cavity between the 2 walls with sound damping materials such as insulation foam.
This isolates sound on one side of a wall and prevents soundwaves passing through to the other side. They will vibrate independently from one another.
Soundproofing the Ceiling
Use the same techniques for the walls to soundproof the roof of the cabin.
Avoid plasterboard, however, and use plywood instead as it is a lot lighter and will keep the insulation in place.
Soundproofing the Floor
Add another layer of noise reduction by soundproofing the floor.
A straightforward and quick solution is to lay carpet that will reduce any vibrations and trap in any escaping sound. The thicker the carpet the better the insulation – and it's a great way to keep your cabin warm too.
A more durable and easy clean option is rubber matting or gym mats that lock together to cover the entire floor are a great alternative.
Soundproofing Windows
Windows are a crucial area where sound can escapes – just having a thin sheet of glass will do little to prevent this so always opt for double glazing as a starting point.
Locate any gaps around the windows and fill with acoustic foam or sealant – Green Glue (see above) is recommended
Use the thickest insulation tape you can for the best results – cover the bottom of your window and where the window meets the windowsill
Ensure the windows have good rubber seals.
Use plastic sheets that can be glued directly onto the panes of glass to make it thicker and help prevent sound escape.
Another alternative is to use acrylic windows – a cheap and affordable option that provide more soundproofing than thin glass – good for dealing with low level noise.

Fitting acoustic glass (noise reduction glass) is one of the most effective – this has 4 thick panes of glass, 2 each side of the cavity bonded together with polyvinyl butyral (PVB). This has heat and pressure applied to it and becomes clear and acts as a noise dampener by absorbing sound.
Curtains and blankets can be used for a quick fix and can help muffle noise although don't rely on these as they will only have a minimal effect. Soundproof curtains are thick and heavy and will be more effective at dealing with low level noise.
Soundproofing the Door
Another weak spot.
Ensure the door has a rubber seal at all points where it makes contact with the doorframe. This will help trap sound and stop is escaping. Make sure all visible gaps are sealed.
Acoustic caulk – soft and pliable, this is another noise proofing option that can be used to seal gaps around the door.
If the doors are glazed, follow the same steps that you have used on the windows.
Don't forget the key locks – buy covers to stop noise escaping through these.
Seal Up All the Gaps
Your cabin needs to be as airtight as possible to keep the sound in so give it a once-over and check:
All door and window frames for gaps and cracks.
A

ll areas where cables go through soundproofing materials so there are no gaps for noise to escape through.
Use Acoustic caulk to seal any gaps.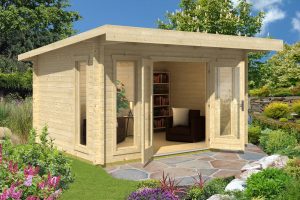 Barbados 70mm Log Cabin with Premium Double Glazing