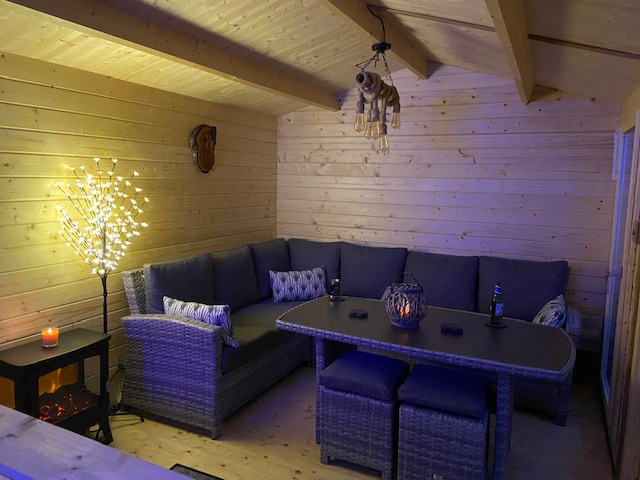 * Check out all our summerhouse offers *
Not only a fantastic place to escape to on a summer's afternoon with the latest blockbuster and a flask of tea, the additional living space a summerhouse gives you opens up a world of possibilities of what you can do in your garden!

Needing a bit of inspiration?

Whether you're wanting to work, rest or play, take a look below at some ideas to whet your appetite!

Bolt Hole for Relaxation

With the addition of some comfy furniture, create a fabulous area to relax and get some peace and quiet. You can certainly have fun going to town to create your very own living room in your garden. Don't forget the wine fridge!

Studio/Hobby Room

With plenty of light streaming through the windows, be inspired by your surroundings and nature and enjoy peaceful, imaginative time in your very own art studio or hobby room.

The perfect space to forget the stresses of life and indulge your artistic juices.

Children's Playroom

A wonderful space for your kids to get stuck in to all their activities. Why not add some colourful chairs and tables and paint the walls to make it a fun, stimulating place for your children to let their imaginations run wild and be creative and messy – away from the dining room table and living room floor! Their very own fun place to play
Not forgetting the added bonus of being able to shut the door at the of the day and leave all the chaos inside. No more lego bricks down the side of the sofa!
Important to consider safety glazing for the doors and windows.

Teenagers' Den

If your kids have moved on from glitter and glue and have reached the 'cool' teenager years, a summerhouse is a fabulous space for them to hang out with their friends, listen to music and have their own den away from their 'un-hip' parents! Perhaps with a bit of supervision (!), you can let them have fun decorating and making the space their own!

A great place, too, for the odd sleep-over – which could be very welcome, especially if you have a bunch of rowdy teens who perhaps haven't grasped the idea of going to bed before 4am!

Home Office

Just think. No more battling with roadworks. Train delays. Or strikes!

Your commute could involve a quick trip down the garden path, a small diversion around the odd snail, and you could be at your desk in under a minute. Really, what't not to like?!!

Take a look at my blog Top Tips for Turning a Log Cabin into a Garden Office for advice including running electricity.

Gym/Work Out Space

Wouldn't you much rather be able to work out looking at views of your garden rather than the butt of the person on the bike in front of you? (Unless it's Chris Hemsworth of course!).

What a great way to save money on gym membership fees and enjoy working out – or doing a touch of Pilates or yoga – without any inhibitions and prying eyes.

Take a look at my blog How to Turn a Cabin into a Gym for advice.

Games Room – with Bar?!

Where better to create your very own neighbourhood hot spot.

Pool table, darts board, karaoke machine, poker table, music…

And you really can't go wrong if you add a bar into the mix – all our Lasita cabins/summerhouses have bars as optional extras. Sorted.

A fun space for fun times with family and friends enjoying wine, cocktails, food and games. You'll never get them to leave!!

Hot Tub
Why not! The ultimate in extravagance. The perfect place to wind down after a busy day relaxing in bubbles, drinking bubbles, in your own private space, away from the gaze of your neighbours.
And by having a hot tub in your summerhouse, you get to enjoy it all year round whatever the weather.
Yep, sounds like heaven.

Take a look at my blog Can you Put a Hot Tub in Log Cabin for advice.
So, bottom line, a garden room does not just have to be a garden room. The possibilities of what you can use a summerhouse for really are endless. Be creative. Be imaginative. And enjoy.

Do check out my blog on How to Heat a Log Cabin/Summerhouse for useful tips if you want to keep toasty and use the space throughout the year.