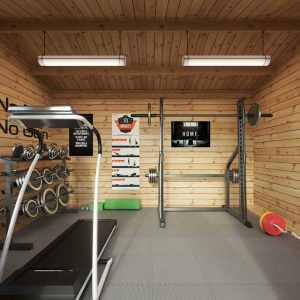 No membership fees, no commuting, no queuing, no sweaty bodies, no butt envy…
I'd say those are 5 very good reasons to consider having your own log cabin home gym.
And that old excuse of not having time to get to the gym that's always so easy to fall back on. Well, that won't hold up any more.
Just having a quick stroll across your lawn to your cabin is the best incentive to stick to your fitness regime!
Granted, it's not going to be cheap. There's going to be the expense of the cabin and the equipment. But, long term, think of all the money you can save on expensive gym membership and commuting.
More importantly, you can enjoy working out to your heart's content, without any inhibitions and worrying about prying eyes, in your very own tailor-made space.
Toned and quids in. It's a win win situation.
And what a fabulous mood booster too, being able to work out while enjoying views of your garden and getting back to nature rather than staring at the butt of the person on the exercise bike in front of you. No contest really.
So, what do you need to consider when turning a log cabin into a home gym?
Cost and size of cabin
Ventilation
Insulation
Flooring
Electricity
Security
Cost and Size of Cabin
Depending on your budget and how much equipment you want to include in your gym, plan well by maximising the space you need to accommodate both the equipment and being able to move around easily.
Measure the equipment you have your eye on to work out the floor space you will need.
And do keep in mind the headspace for any tall items like steppers.
Here are a couple of examples to give you an idea.
If you are looking for something that's not too big that can accommodate an exercise bike or rowing machine with some weights and dumbbells and space for a yoga mat, a 3m x 3m cabin would tick all the boxes:
Aruba Corner Cabin 3m x 3m £2,529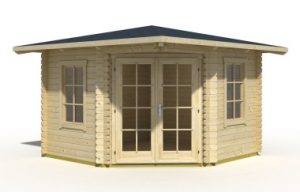 If you are wanting a larger floor space to house a variety of equipment, for instance a treadmill, cross trainer, rowing machine, with enough headroom for a stepper, a cabin of about 5m x 4m with an apex roof would be ideal:
Elgin Log Cabin 4.8m x 3.6m £3,695
And it's definitely worth having a cabin with double doors to give you easy access when getting the equipment in and out.
Ventilation
Having a cabin with lots of windows not only provides plenty of natural light, they are an invaluable source of ventilation too.
Especially in the summer months, it's always a good idea to open a window when you work out.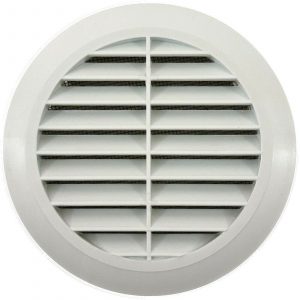 And you should also consider air vents. One to let out the warm, moist air out and one to draw the cool air from outside in. Ideally they need to be installed towards the top of opposite walls. These will allow air circulation in the cabin and create a drier atmosphere. Make sure the vents are mesh backed to keep insects out!
Insulation
It's important to create a pleasant internal temperature in your cabin so you can use your gym all year round.
Wall thickness – the thicker the logs the more heat efficient they will be providing good thermal insulation. So a 70mm log cabin will retain heat better than a 44mm cabin due to its increased wood density – no surprise there then!
Double glazed windows and doors will also help to keep the cabin warm.
But, even with thicker logs and double glazing, up to 70% of heat will be lost through the roof and the floor.
So it is important to consider:
Roof and floor insulation – the real difference comes from fitting floor insulation directly under the floor boards and between the floor joists and roof insulation above the roof boards.
See my blog How to Insulate a Log Cabin for advice.
Flooring
It goes without saying the flooring needs to be sturdy.
It's essential your cabin is built on a flat, solid, durable base made from concrete or paving slabs that is strong enough to take both the cabin's and heavy gym equipment's weight.
It might also be advisable to add extra floor bearers underneath the cabin to compensate for this additional weight.
And if you are planning on using heavy weights, protect the floor with heavy duty floor tiles that are designed to absorb the shock of dropped weights and prevent any damage.
Electricity
There will be a multitude of things needing electricity in your log cabin gym so you will need to add a power supply.
lighting
electrical gym equipment
music system
tv screen
heaters
Always consult a professional electrician for advice and to carry out any electrical work.
See my blog How to Run Electricity to your Log Cabin for advice.
Security
With valuable gym equipment in the cabin, security is a must. Always lock the door when you're not using it.
Things to consider:
Fitting door and window locks – make sure they meet your insurer's standards (BS 3621 is usually cited)
Having an alarm system linked to the house
Fitting a PIR (passive infra red) light and alarm sensors
Curtains or blinds are an attractive and effective security measure
Spreading crunchy gravel around the cabin or creating a gravel path which makes approaching the cabin inconspicuously impossible!
So there you have it. Your dream gym tailored to your own needs – as much or as little as you want. From mirrors on the wall, a music system, tv screen, your very own choice of equipment to a few mats and workout DVDs.
And don't forget, there really is no need to spend a fortune on the equipment – it's always worth checking out Ebay for plenty of second hand items!
You have absolutely no excuse not to stick to your New Year's gym resolution ever again!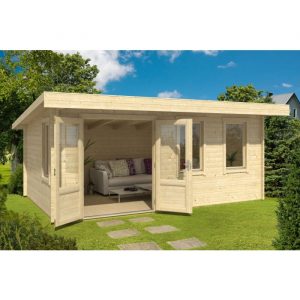 Baruda Log Cabin 5.1m x 3.3m £3,499