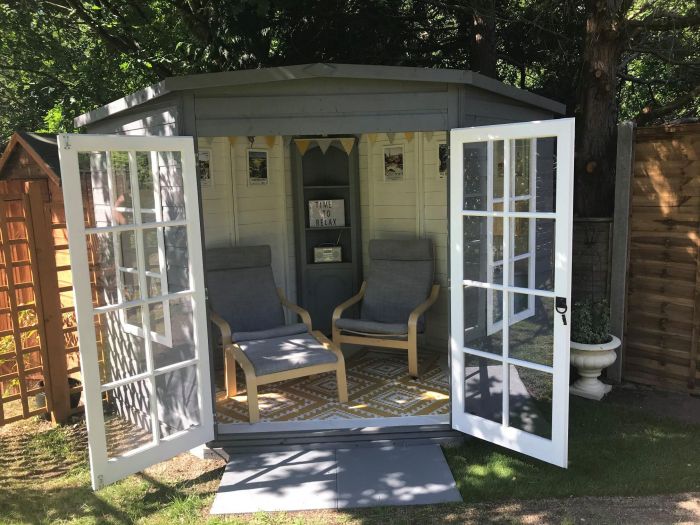 Whether you want to create the perfect girlie haven or man den, you really can't beat having a bolt hole in your garden to escape to for some peace and quiet and well needed me-time!
A summerhouse is just the job.
But to get the most from your garden room and guarantee years of enjoyment, it's important to look after it, spend a bit of time on the aftercare and give it some TLC. It really will benefit from a bit of pampering!
So, what do you need to do?
Treat It
This really is the first priority.
The naturally porous nature of timber results in it absorbing moisture from the atmosphere. This will lead to it expanding and will eventually result in slight movement in the boards. It can also cause rot and mould.
It is therefore important to treat the external wood of the summerhouse as soon as you can to protect it from the weather and prevent any moisture seeping in.
Do remember that the parts of the summerhouse that are more exposed to the weather, ie, fascia boards and overhangs, will need to be treated more often than other parts.
Treatment should preferably this should be done within the first week and certainly within a maximum of 4-6 weeks:
Firstly with wood preservative – to give the timber penetrating protection against mould and mildew
then
2-3 coats of good quality paint or stain – to give protection from UV radiation from the sun and rain penetration
Apply as per the guidelines on the tins and repeat every couple of years to keep the wood protected.
*Recommendation for Wood Preserver* – Cuprinol Wood Preserver
This will need to dry 2-5 days before painting or staining the log cabin.
*Recommendation for Staining* – Sadolin Opaque Woodstain
*Recommendation for Painting* – Sadolin Supadec wood treatment colours with up to 8 years protection
It's important to treat the summerhouse interior walls with stain or paint as moisture can build up inside.
Doors and Windows
To prevent warping and swelling, doors and windows should painted on every surface, internally and externally, including the window battens.
Air It

It's important to prevent the build up of condensation and moisture inside the summerhouse caused by the fluctuating temperatures, especially during the winter months. This can lead to rot and mould.

Spend time leaving the windows and doors open to allow the air to circulate and the building to breathe.

Moisture capsules are also available to buy which help draw out the moisture and prevent condensation.