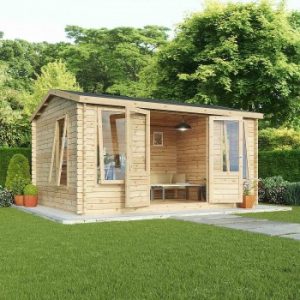 Don't let a little thing like planning permission put you off buying a log cabin and enjoying fantastic extra outdoor living space in your garden!!
It's probably a lot more straightforward than you think.
A log cabin is classed as an outbuilding on your property. Outbuildings are regarded as permitted developments and therefore do not require an application for planning permission, provided all the conditions are met that are laid down under planning laws. If you meet all of these, all should be good!
You will not need planning permission if your cabin:
Is built at the side or rear of your house – not at the front as regulations state it cannot extend 'beyond the part of the original house nearest to the highway'
Has a maximum eaves height of 2.5m (8.25ft)
Has a maximum overall (ridge) height of 4m (13.1ft) with a dual pitched roof
Has a maximum overall (ridge) height of 3m (9.8ft) with a flat roof
Has a maximum height 2.5m (8.25ft) if it's built within 2m (6.6ft) of the property boundary
Has a maximum coverage 30m2 if the garden covers more than 100m2 or 20m2 if the garden is less than 100m2
Is not built in the grounds of a listed building
Is not built in an area of conservation or outstanding natural beauty or similar
Is not to be used commercially (home offices are usually acceptable)
Is not to be used as a dwelling
It does not include a veranda, balcony or raised platform
In a nutshell, you would generally need to seek planning permission for cabins:
with an overall roof height of over 2.5m positioned within 2m of your boundary
with eaves of over 2.5m high, or an apex roof of over 4m, or any other roof of over 3m
in a front garden
A planning officer would have to consider if a cabin with a maximum height of over 2.5m built within 2m of your boundary would adversely affect your neighbour's use of their garden, eg. block natural light/sun. If they decide it would, permission will possibly be declined.
If you are in any way uncertain, it is always best to seek advice from your local planning department. Guidelines can vary in different parts of the UK so it is always advisable to check with your local planning officer to see which rules apply where you are.
And the Government's Planning Portal is a good starting point for guidance. Log cabins fall under the outbuildings project section.