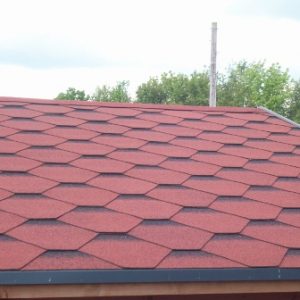 Like a good hairstyle, roofing is a log cabin's crowning glory. It finishes off its look perfectly.
But it not only has to look good. It has to be strong enough to withstand the test of time – and the British weather!
There's little point in investing a lot of money and time in having the perfect log cabin if it isn't properly protected by the roof covering.
So making the right choice is paramount.
Invariably, good value for money, water resistance and not having to be replaced often are high on the list of priorities.
Of the choices available, roofing felt, bitumen felt shingles and EPDM rubber roofing are the most popular to consider.
Roofing Felt
For log cabins with flat or sloping roofs
Cheapest of the options
A common roof covering for most garden buildings
Good waterproofing material
Repairable – easy to torch a new felt patch over the worn or torn area
Prone to weather damage: can warp out of shape in hot temperatures, fade and weaken in prolonged sunshine and become brittle in winter
Life expectancy of 5 years
Click here for handy video: How to Install Roofing Felt on a Log Cabin Roof
Bitumen Felt Shingles
For log cabin roofs where there is a pitch of 15 degrees or more (not suitable for flat roofs)

Great value for money
Thicker, stronger and longer lasting than roofing felt
Attractive roof finish – choice of colours available, ie. green, red, charcoal, brown
Choice of shapes available, ie. hexagonal, rectangular, square
Adhesive layer on the back that sticks the layers together and makes them more wind resistant
Good life expectancy of around 15-20 years
Easy to fit by nailing to the roof boards, staggering and overlapping each row on top of each other
For additional weatherproofing, a standard under felt can be installed prior to fitting the shingles
Click here for handy video: How to Install Shingles on a Log Cabin Roof
EPDM Rubber Roofing
For log cabins with flat roofs and very shallow sloping roofs with a slope of less than approximately 10 degrees
Used in the commercial industry for over 50 years
Synthetic rubber roofing membrane that will keep your building water tight and protected
Comes in a grey/black rubber
Applied to the roof in one piece so there are no joins to worry about, eliminating the risk of leaks developing in weathered or badly sealed felt joints
Great value for money – economical when compared to re-felting every few years
Very durable – will not crack or perish
Good life expectancy of typically 30-50 years
Naturally repels water and resists even the worst of weather conditions
Ozone and UV stable so nonperishable
Naturally breathable allowing vapours to escape and preventing blisters
Virtually maintenance free
Easy to fit:

Order covering size and tub of special EPDM glue
Apply the paste to the roof boards
Simply roll out the rubber roof
Brush out any air pockets
Nail down the sides of the rubber directly onto the timbers at the side of the roof
Click here for handy video: How to Install EPDM Rubber Roofing on a Log Cabin Roof