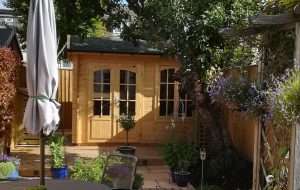 In a word. Yes.
A log cabin can be a fabulous investment.
It not only adds valuable living space to your garden, it can add, on average, at least 5% – even up to 15%! – to the value of your house.
Now that's a pretty good return.
In a 2018 article in Country Living highlighting research from the Federation of Master Builders and HomeOwners Alliance, it states that "building a garden room or outside playroom for the kids can add £35,611 to an average value of a Surrey home."
Investing in a log cabin is a great alternative to an extension or loft conversion. It will give you more living space:
at a fraction of the cost
without the upheaval of living in a building site
without the hassle of getting planning permission
Do take into account, however, that any potential increase in value can be affected by certain factors:
size and quality of log cabin
property value and type
location in the country
To make the best of your investment, consider the following:
Quality of Log Cabin
Having a poorly built, run down log cabin is not a selling point that is going to appeal to potential buyers.
It will not add value to your property and will be more of a hindrance than an investment.
It is more likely going to put off any potential sales because of the work and expense involved in fixing it up.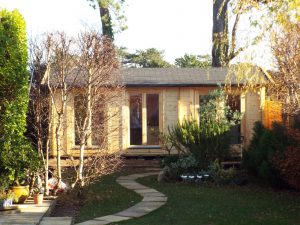 Sturdy, weatherproof, insulated, well maintained, good quality.
These are the selling points you want to give your log cabin. And this is what is going to add value to your property.
Everybody loves spending time in their gardens. So having a good quality, existing additional living space in the garden for work, rest or play is a fantastic double whammy.
Running Electricity to the Cabin
This is a feature potential buyers will undoubtedly be keen to have, giving them the option to heat the cabin and use it throughout the year.
See my blog How to Run Electricity to your Log Cabin for advice on this.
Add a WiFi Connection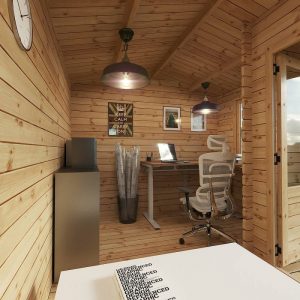 For potential buyers who work from home, a log cabin with electricity and a WiFi connection is a huge appeal – a dedicated work space in the garden, away from the distractions of home life.
So the convenience of having an outdoor space that can be turned into a ready-made office without the hassle and expense of having to do it themselves is a massive plus.
It's certainly fair to summise that some professionals would be willing to pay a higher price for this!
See my blog How to Connect your Cabin to the Internet for advice on this.
Planning Permission
The rule of thumb is that a cabin with a roof height of below 2.5m and built no nearer than 2m to an existing boundary does not need planning permission.

However, it's essential you have adhered to planning permission if your log cabin doesn't come under this criteria and is needed so it doesn't cause any problems for potential buyers. They will want to know everything is in place and above board and are certainly not going to want to inherit any hassle involved if issues arise!
See my blog Do I Need Planning Permission for a Log Cabin for advice.
If this has got you thinking, take a look at our range of log cabins for some inspiration. It will definitely be a valuable addition to your garden in more ways than one!