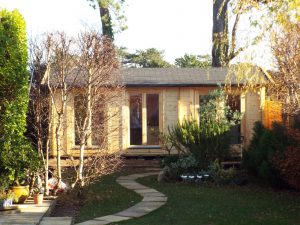 Without doubt.
Having additional living space in your garden with a log cabin will certainly add the wow factor to your property for potential buyers.
It will make your house stand out from the crowd and set it apart from similar properties.
It's safe to say very few potential buyers would be disappointed to see a log cabin in the garden of a house they were looking at.
Everybody loves spending time in their gardens. So having an existing space for work, rest or play is a fantastic double whammy, a massive appeal and a sure way of increasing buyer interest.
What's not to like?
And an increase in interest can lead to a higher number of viewings with potential buyers sticking to the asking price so they don't miss out!
Increased Appeal to Business Owners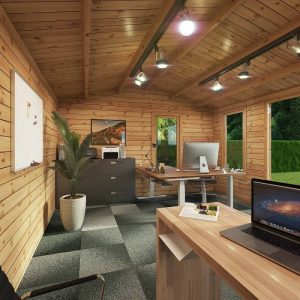 For potential buyers who work from home, a log cabin is a huge appeal – a dedicated work space in the garden, away from the distractions of home life.
So the convenience of having an outdoor space that can be turned into a ready-made office without the hassle and expense of having to build one themselves is a big plus.
And just think of the added appeal if you have already run electricity to the cabin and have a wifi connection!
See my following blogs for some pointers on this:
How to Run Electricity to your Log Cabin
How to Connect your Cabin to the Internet
It's certainly fair to summise that some professionals would be willing to pay a higher price for this!
Quality is Important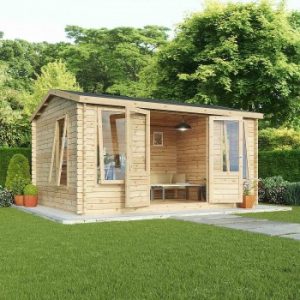 It goes without saying that having a poorly built, run down log cabin is not going to appeal to potential buyers.
Having an eye-sore in the garden is not a good selling point. And is more than likely going to put off any potential sales because of the work and expense involved in fixing it up.
Make it a feature that shows off its potential. Make sure it's:
Sturdy
Weatherproof
In good condition
These are key.
See my blog for advice on How to Treat a Log Cabin
Adhere to Planning Permission and Building Regulations

It's essential you have adhered to planning permission and any building regulations needed for your log cabin so this is not an issue with potential buyers. They will want to know everything is in place and above board – they are certainly not going to want to inherit any hassle involved if issues arise.
The rule of thumb is that a cabin with a roof height of below 2.5m and built no nearer than 2m to an existing boundary does not need planning permission.
See my blog for advice Do I Need Planning Permission for a Log Cabin
So, bottom line…by taking all of the above into account, a log cabin is a massive bonus for prospective buyers and will undoubtedly improve the appeal of your house and garden. Job done!