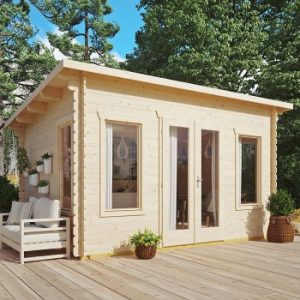 How long is a piece of string…?
Without stating the blimming obvious, it stands to reason that the bigger the log cabin and the thicker the log walls, the more expensive it will be.
To help narrow down the multitude of log cabins to choose from, first things first:
What are you going to use it for?
Do you want to use it throughout the year?
This will give you a good starting point for your budget:
Size
Cladding (log) thickness – the thicker the log the more heat efficient it will be for year round use
Once you have decided on your cabin, there are plenty of additional extras to consider that will increase the size of your budget as much or as little as you want:
Insulation
Glazing
Roofing
Heating
Electricity
Installation
Treatment
Size and Cladding Options
Rule of thumb is if you're going to use your log cabin throughout the year, you'll want thicker cladding to help with heat retention. If you're only going to use it in the summer, thinner cladding would be suitable.
Examples:
Small Garden Room Log Cabin – from 2m x 2m
Prices start from about £1,000
Choose from small, compact log cabins with 19mm or 28mm log thickness. Add some comfy chairs and you have yourself the perfect garden bolt hole to escape to with a good book and a sneaky G&T on a summer's afternoon:
Mercia Studio Log Cabin 2.5m x 2m 19mm  £929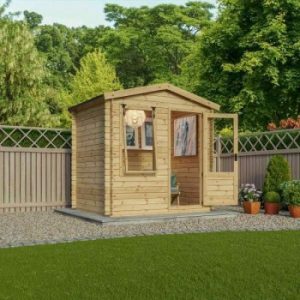 Faro 1 Log Cabin 3m x 2.5m 28mm £1,879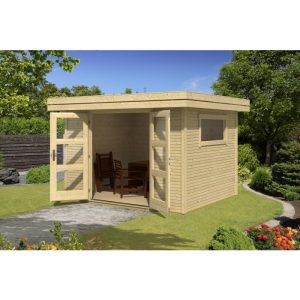 Small garden rooms with thicker logs of 44mm or 70mm that retain heat and would be ideal for use all year round:
Alex Mini Log Cabin 2.5m x 2m 44mm £1,949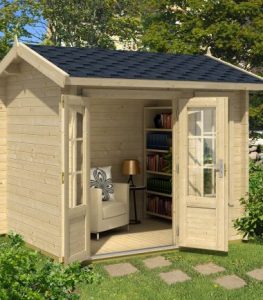 Barbados Mini 3.3m x 2.4m 70mm £3,649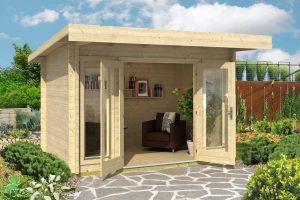 Medium Log Cabin – from 4m x 2.5m
Prices start from about £2,000
Ideal garden rooms with extra space for use as a garden office, home gym, kids' den or hobby room. A choice of cabins this size also offer living space with separate storage rooms attached.
Mercia Home Office Executive Log Cabin 4m x 3m 34mm £2,339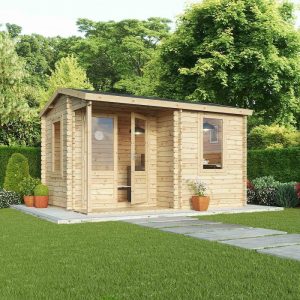 Wrexham 1 Log Cabin 3.9m x 2.4m 44mm  £2,989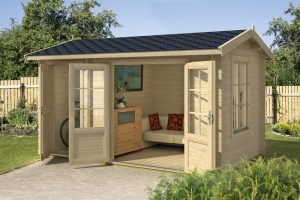 with separate storage room
Barbados 3 Log Cabin 4m x 4.1m 70mm £3,990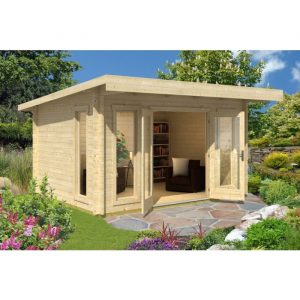 Large Log Cabin – from 5m x 3m
Prices start from about £3,000

Offering fantastic additional living space with plenty of room – available with one, two or even 3 rooms.
Mercia Corner Lodge Grande Log Cabin 5m x 3m 28mm £2,675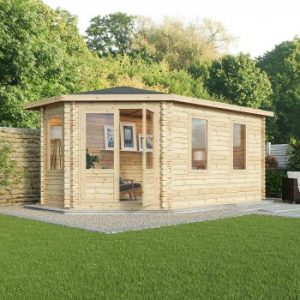 Elgin Log Cabin 4.8m x 3.6m 44mm  £3,545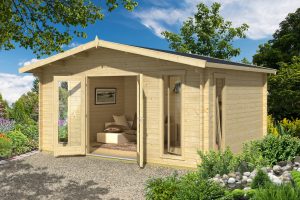 Orkney 4 Log Cabin 6.5m x 3.9m 70mm £7,769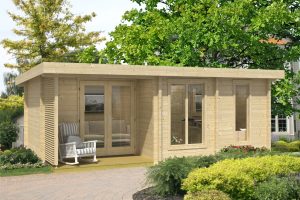 with 2 rooms
Additional Extras: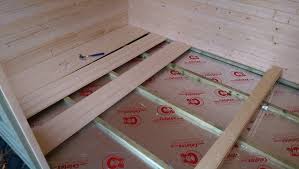 Insulation
Floor and roof insulation kits are available and are very often an optional extra when buying a cabin – Lasita Maja log cabins come with this option.
Prices start from about £500 depending on the cabin.
Glazing
Single- or double-glazing? The more you use the cabin, and especially if you are going to use it in the winter, will be the deciding factor in what glazing you choose.
A lot of cabins are supplied with double glazing as standard and this is included in the overall price.
However, the Mercia range of cabins, for example, give you the choice of single and double glazing with a difference in price, on average, of between about £100 and £200 depending on the cabin.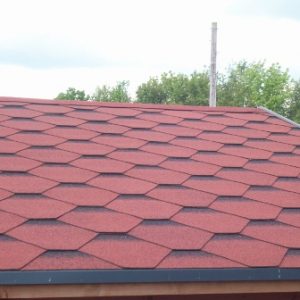 Roofing
Making the right choice is paramount and there's no point in investing time and money in the perfect log cabin if it isn't properly protected by the roof covering.
A majority of cabins come with roofing felt as standard with the option to upgrade. It is worth considering spending that little bit more on a cost-effective covering that won't need replacing regularly.
Most common roofing options:
Roofing felt – cheapest option – life expectancy 5 years
Bitumen felt shingles – life expectancy 15-20 years
EPDM rubber roofing – most expensive option but most cost effective – life expectancy 30-50 years
Have a look at my blog What Type of Roofing is Best for a Log Cabin for advice.
Heating
For some added warmth and cosiness it's worth thinking about
Adding underlay and carpeting
Curtains to keep any draughts at bay
Have a look at my blog How to Insulate a Log Cabin for some useful tips.
Electricity
Essential if you are wanting heating and lighting.
This will involve running a power cable from your house to the cabin. Plan what you want to power in your cabin and consult an approved electrician for a quote.

Installation
If you're a whizz with DIY and fancy the challenge of erecting the cabin yourself this will save you some pennies.
However, the easier – and, most likely, less stressful – option may be to get a professional in to do it for you. Prices will vary depending on the size and compexity of the cabin.
Very often the cabin suppliers offer an installation service.
Mercia are one supplier that offer this with their cabins. To give you an idea of what an installation might cost:
Mercia Corner Lodge Grande Log Cabin 5m x 3m 28mm (listed above) – Installation  £979
Bear in mind the cabin needs to be constructed on a level and firm base, ie. concrete or garden slabs, so factor in the cost of laying a suitable base if need be.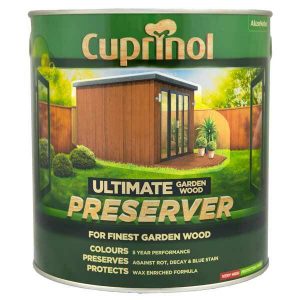 Treatment
This is a must. It's really important to do what you can to give the log cabin the best, and longest, life possible by treating it, firstly with wood preservative, and then 2-3 coats of good quality paint or stain.
So this is another financial consideration to take into account shortly after the cabin's installation. And regularly, every couple of years thereafter, to strengthen it against the weather.
Have a look at my blog How to Treat a Log Cabin for advice on this.
So, in a nutshell, you can choose from cost-effective log cabins that provide a great space to relax in during the summer months or, if you want a premium cabin built from thicker logs with insulation for use all year, this will cost you more.