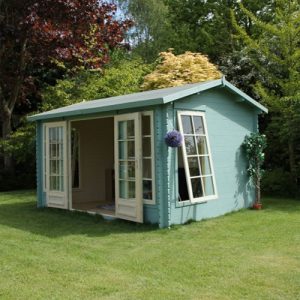 We all need a bit of TLC, to be treated well and looked after if we are going to thrive and live a happy life.
Log cabins are no different.
After you've invested in a cabin and turned it into your perfect garden haven, it's really important to do what you can to give it the best, and longest, life possible. And with the right treatment and care, you can live a happy life with your cabin for many years to come.
How soon afer installation should I treat my cabin?
It's important to treat all the external bare wood of your log cabin as soon as possible after installation. Ideally this should be done in the first week, or within a maximum of 4-6 weeks:
Firstly with wood preservative, and then
2-3 coats of good quality paint or stain
Continue to treat your cabin regularly, every couple of years, to strengthen it against the weather.
If left untreated, the wood will turn grey in colour and your log cabin will deteriorate. It's not rocket science!
Wood Preservative
It is essential to use a good wood preservative on the exterior walls and trims (not doors/windows) that can control moisture and keep the logs water repellent. It will give the timber deep, penetrating protection against mould, mildew, fungi and insect damage.
This will need to dry for between 2-5 days before painting or staining the log cabin.
You should apply wood preservatives to a log cabin every couple of years to keep it protected.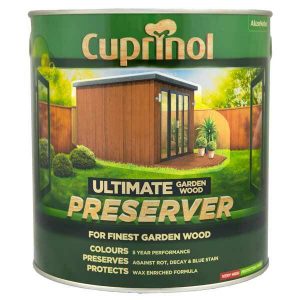 *Recommendation* – Cuprinol Wood Preserver
Painting or Staining
Painting or staining will protect the cabin from the damaging effects of UV radiation from the sun and rain penetration.
Ensure you choose a wood stain or paint that is suitable for use on bare cladding. Avoid products that are advertised as suitable for sheds and fences – they are not suitable for bare, untreated wood.
Take care that all the timber is thoroughly covered, including all the sides and edges of the eaves and apex fascia boards.
We recommend water based products which are easy to use and dry a lot faster than oil based products.
Staining:
Dark stains provide better protection from the weather due to their additional pigmentation. Lighter tone stains can be prone to sunburn!
*Recommendation* – Sadolin Opaque Woodstain
Painting: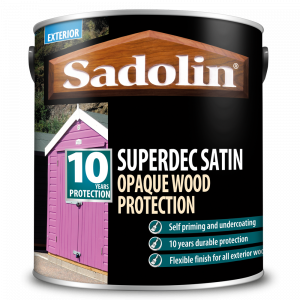 *Recommendation* – Sadolin Supadec wood treatment colours with up to 8 years protection
Remember to treat the interior walls of your cabin with stain or paint as moisture can build up inside.
Doors and Windows
These must be painted on every surface, including the window battens. If they are not painted correctly this can lead to swelling and warping.