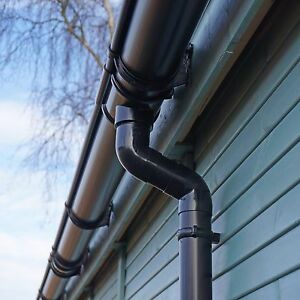 Simply put, water will cause the timber of your summerhouse to rot.

Extended exposure to moisture will result in mould which leads to decay and wet rot.

A prime cause of rotten timber in all garden buildings is water falling from the roof onto the ground and splashing onto the lower logs. This will create a build up of moisture in the dank, damp and dirty area at the bottom of the building, creating the ideal environment for mould and decay to flourish.

It's not rocket science to realise, therefore, that it's a good idea to keep the water splash back to a minimum if you want to prolong the life of your summerhouse.

The effect of the water will certainly be reduced by treating the external wood of your summerhouse as soon as you can after it's installed, therefore protecting it from the weather and moisture getting in – see my blog How to Treat and Maintain your Summerhouse for advice on this.
However, to further protect the wood at the bottom of the summerhouse, it's definitely worth considering installing guttering.

Why?

* It redirects the water falling from the roof away from the wall timbers and foundations

* Reduces the water exposure from the rain falling from the roof and splashing onto the bottom of the summerhouse walls

* Helps protect the treatment on the summerhouse walls which needs to be well maintained against continuous contact with water which creates a risk of deterioration

* It also gives you the means to collect the water from the roof to fill water butts for use in your garden – a much better alternative to tap water with all its chlorine and other substances – very eco-friendly!
Take a look at my blog How to Install Plastic Guttering on a Log Cabin for advice
So, in a nutshell, by doing what you can to keep rot at bay by reducing water exposure with the installation of guttering, you're increasing the lifespan of your summerhouse so you can enjoy it for as long as you can for many years to come.