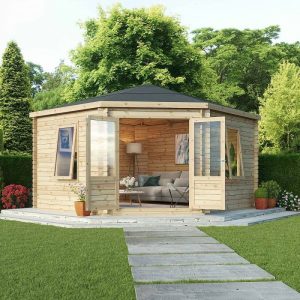 Somewhere to work, somewhere to rest or somewhere to play.
You really are spoilt for choice with a whole gamut of ideas for the extra living space a log cabin gives you.
So be inspired.
I've put together a list of top 10 suggestions to whet your appetite and get you thinking.
Garden Room
With the addition of some comfy garden furniture, what better way to create your perfect bolt hole to escape to on a summer's day with a cuppa and a good book – or a gin and a good friend!
Home Office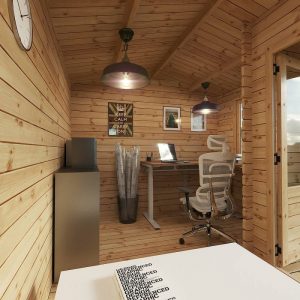 Create the perfect dedicated work space in your garden to get the balance right between working at home but away from the day to day distractions of home life.
Take a look at my blog Top Tips for Turning a Log Cabin into a Garden Office for advice.
Art Studio/Hobby Room
A light and airy, serene space to get creative, escape the stresses of life and lose yourself in your imagination.
The perfect spot to get inspiration from nature and your garden.
Children's Playroom
No more explosions of glitter, sequins and glue on the dining room table or lego bricks on the living room floor. Your kids can have their own space to be creative and messy and play.
How nice to be able to shut the door after a fun filled afternoon and leave all the chaos behind 🙂
Important to consider safety glazing.
Music Studio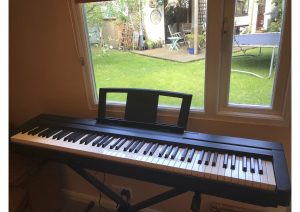 The reality of singing like Beyonce or playing drums and guitar like Dave Grohl might not quite live up to your aspirations – much to the chagrin of your family and neighbours!
So having your own space in the garden, out of earshot, where you can sing or play to your heart's content is just the job.
Depending on the level of sound you are planning to generate, it's worth considering soundproofing. Bear in mind, the thicker the logs the better the insulation.
Find some handy tips here on How to Soundproof a Log Cabin
Home Gym
That old excuse of not having time to get to the gym won't hold up any more with your very own in the garden. After some outlay on equipment, you can save yourself money in the long run on gym membership and enjoy working out, or a spot of yoga or Pilates, to your heart's content, without any inhibitions and worrying about prying eyes, in your very own tailor-made space.
Toned and quids in. It's a win win situation.
And what a fabulous mood booster too, being able to work out while enjoying views of your garden and getting back to nature rather than staring at the butt of the person on the exercise bike in front of you. No contest really.
Spa/Beauty Room
A great idea if you are a trained beauty therapist or masseuse. Create a calming and relaxing haven for clients in the tranquil setting of your garden away from the bustle of a busy gym or salon.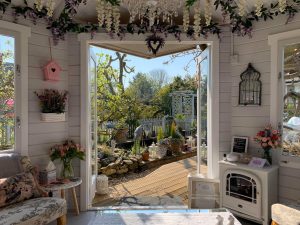 See Beautiful Birds Beauty Salon for a stunning example of what you can do with a salon in a cabin Sacha, the owner, bought from us, tucked away at the bottom of her garden. It really is the perfect, peaceful hideaway.
Games Room
Enjoy nights out by having nights in at the bottom of your garden with a fun game of pool or darts.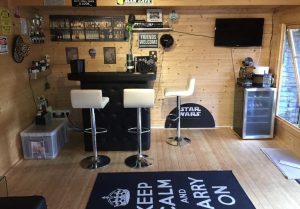 Or why not go the whole hog – think big tv, a bar, poker table, pinball and karaoke machine. You could have the best hot spot in town by your back gate. You'll never get your friends to leave!
All Lasita Maja cabins have a bar as an optional extra – sorted.
Guest Bedroom

The ideal space to add a sofa bed to give you an extra room for guests to spend the odd night – or if your teenagers fancy having friends over for a sleepover.
Please note the cabin must comply with Building Regulations to ensure it is safe for sleeping in.
See my blog Do I Need Planning Permission to Sleep in a Log Cabin for advice on this.
Hot Tub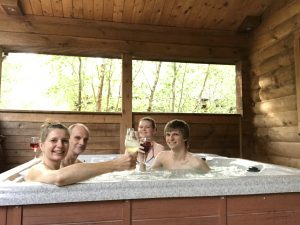 Be extravagant. Where better to end a stressful day than relaxing in a tub of bubbles, drinking bubbles?
Sounds like heaven to me. 🙂
You'll need to consider ventilation, floor support and electricity supply – take a look at Can You Put a Hot Tub in Your Log Cabin blog for useful information.