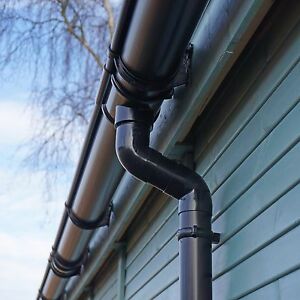 Water is the main enemy for a log cabin. It negatively affects the longevity of the logs.
Once you've treated your log cabin (see my blog How to Treat a Log Cabin for advice on this) it's common sense to do all you can to keep it in tip top condition for as long as possible.
Installing guttering is the best way of helping to do this as it…
Reduces the amount of water exposure from rain falling from the roof and splashing back up onto the cabin walls.
Diverts the water well away from the wall logs, windows, doors and foundations.
Helps protect the treatment of the cabin – if this is not well maintained the wall logs are at risk of deteriorating significantly faster due to the the continuous contact with rainwater.
Enables you to collect water from the cabin roof to fill water butts and use for the garden.
So, to summarise, you don't need guttering on a log cabin but it's a really good idea if you want to increase the life span of your cabin – and your investment.
Not all log cabin manufacturers offer guttering with their cabins. The Mercia range of log cabins do, however, have guttering as an optional extra on all suitable cabins.
Check out my blog How to Install Plastic Guttering on a Log Cabin