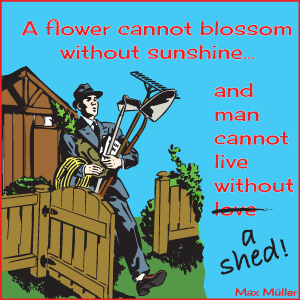 Did you know 7% of UK shed owners hide secret shopping receipts, 8% store secret cigarettes and 9% keep naughty snacks in their sheds?
And one in five of us like spending time in the shed to avoid our partners. Apparently eating Mars Bars and smoking crafty cigarettes.
So while you ponder on what you're going to use your shed for, I've put together a list of top tips to consider before you splash out.
Size and Type of Shed
Always plan on a bigger size than you think you'll need. You'll be amazed how quickly you'll cram it full with all your garden bits and pieces – tools, furniture, lawnmowers, garden toys, Maltesers… It's a good idea to work out your current storage needs and increase this by about 25% for your future storage needs.
Think about how you're going to use your shed. If you're going to keep large equipment in it choose a shed with wide double doors for easy access.
Are you turning your shed into a workshop or a place for gardening where you will be spending a lot of time inside? If so, consider lighting, ventilation and roof height. Many sheds have opening windows and skylights.
Do I Need Planning Permission?
You don't need planning permission for most garden sheds which are classed as outbuildings in the UK. They should be single storey and have no balconies, platforms or verandas.
However, permission will be required if:
The shed covers more than 50% of your garden.
It is not for domestic use.
It is over 3m high with a pent roof or 4m high with an apex roof.
Larger sheds are within 2m of a boundary and over 2.5m high.
You live in a conservation area.
Where Should I Locate the Shed in My Garden?
Make sure you clear any tree roots, stumps and debris.
Your chosen spot must have good drainage and isn't prone to flooding.
Ideally have a clear space of at least 18" on all sides to ensure easy access for installation and future maintenance.
To ensure the long life of your shed it is recommended that trees or shrubs don't overhang it
Consider the purpose of the shed, eg. if it's a workshop it will need plenty of natural light, if you're going to work with plants in there make sure it's near a water source.
What Material Should I Choose?

Wood
The majority of sheds sold in the UK are made from wood.
A pressure treated wooden shed should prevent rotting for many years.
Aesthetically pleasing, wooden sheds blend well into your garden.
They can be painted to fit in with the surroundings.
They don't suffer from condensation problems.
More design options available compared with metal and vinyl sheds.
If you want a draught-proof shed, choose a tongue and groove or interlocked shiplap cladding over featheredge boards which, although cheaper, can warp and let in draughts. Shiplap features smooth planed and fully interlocking tongued and grooved boarding, ensuring that rainwater drains, and the timber dries, quickly. This helps to ensure a longer life for your shed.
High maintenance – will need annual timber treatment.
A majority of wooden sheds come with a base coat of wood preservative. However, you should always treat a new wooden shed straight away with good quality, water-resistant wood treatment. It will then need treating annually or every couple of years to protect it from the weather and keep it in tip-top condition.
The paint finish on wooden sheds will peel and fade over time which will require repainting and other maintenance.
Not as secure as a metal shed.
Cheaper than equivalent wooden sheds.
Common first-time shed purchase because they are the least expensive shed kit option.
Low maintenance – no annual treatment needed.
Rot, rodent and fire proof.
Superior security with many having strong locking systems.
A majority come with high quality factory finishes designed to keep them in excellent condition for many years.
Not as strong as wooden or vinyl sheds.
Susceptible to denting and rusting, especially on the frequently used door area.
Prone to rust – however, if you choose a metal shed with a good quality, hot dipped galvanised frame and panels and a coat of paint you should have years without the need for maintenance. Using sealant paint on the metal can help protect it from rust (although not indefinitely) and applying comprehensive factory treatments can ensure the metal remains strong and durable in all weathers.
Robust and low maintenance.
Lighter yet stronger and more durable than wooden sheds.
No need for painting, staining or treating like wood or metal.
Weatherproof and UV protected.
Won't crack, fade, rot or rust.
For ultimate strength and durability, some manufacturers also use integrated steel supports and a double-wall panel construction – please see our range of vinyl sheds.
While extremely strong, they cannot bear as much weight hanging from the walls as a wooden or metal shed.
What Type of Base is Best?
It is essential that sheds are built on a hard, level base to ensure stability and prevent subsidence.
Without this you'll have difficulty building the shed – screw holes will not line up correctly and doors may not fit doorways.
A level base will keep the shed off the ground to prevent water damage.
Paving slabs or concrete are ideal.
A solid concrete base is more permanent and provides an excellent base particularly for a larger shed.
Concrete base basic steps

:
Mark out the base area, allowing 5cm extra, using pegs and string.
Dig a level hole 15cm deep and insert a wooden framework to contain the concrete
Add a 7cm deep level layer of stone or hardcore
Add the concrete cement mix, spread evenly, level off and leave to fully set
Paving slabs are more practical and cost effective, especially for a smaller shed.
Paving slab basic steps

:
Dig out topsoil about 7cm deep
Add 4cm layer of cement
Start in one corner and, using a spirit level, lay the slabs
Leave the cement to dry before erecting your shed
Lawn, gravel or dirt are not suitable bases. Building on any of these surfaces can result in subsidence, warping and damage from damp.
How Do I Secure My Shed?
As many as 20% of all garden sheds aren't locked making them easy targets for thieves.
Fit a good quality lock with the fittings bolted through the door and reinforced at the back with a steel plate. If using a hasp, ensure the screws are concealed and can't be undone with a screwdriver.
Use a good, strong padlock made from hardened steel, eg. close shackle.
Most shed door hinges are exposed and can be easily removed by removing the screws. Ensure they can't be easily unscrewed by covering them with safety studs or replace ordinary screws with non-return screws or coach bolts. For even better security use strap hinges secured by coach bolts.
If your shed has windows, fit curtains or blinds, or even an integral mesh grille, to cover them at night to prevent opportunist thieves from taking a peak inside.
Fit an anchor point to the shed floor using one way security screws and, with heavy duty chain or cable, link items such as bikes, ladders and lawnmowers to each other then secure with a good quality padlock.
I hope this is of some help. And once you've decided on the right shed for you, you can join the 14 million members of the UK shed owners' club.
One last fun fact. Apparently the average 'sheddie' spends almost a year of their life in their shed. That works out to about 7,000 cigarettes, 365 Mars Bars and a lot of shoes on the quiet 🙂