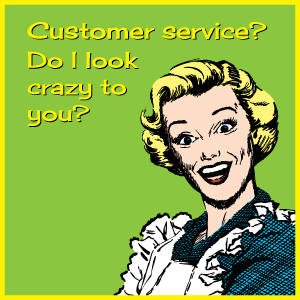 I have been buying computer hardware from a particular on-line store for years, for my businesses and for home. Up until recently I've been very happy with them; I've ordered stuff and it's arrived. And the prices are competitive.
But it's not until something goes wrong that you really appreciate a great business.
Sadly, that's not the the case in this instance.
I recently bought a USB hub from them. In my office is a whole plethora of printers, scanners, cutters and hard drives and I became fed up with unplugging one to use another all the time.
Things start to go pear-shaped
The USB hub had arrived from this particular supplier and I needed to scan something. Great, I thought, time to bust out the hub and get plugging. Unfortunately once connected via the hub my Mac could no longer see the scanner.
"I don't have time for this" I thought and put the hub to one side.
A couple of weeks later I decided to sort things out once and for all. After spending quite some time plugging various things into this USB hub with no success I decided it was faulty.
To my horror, two storage devices no longer worked; it seemed the hub had fried them.
So I went back to the website where I bought the hub and tried to fill out the returns form. The website told me I'd had the item too long and I couldn't sent it back. What?
You're a liar
So I picked up the phone. The woman who answered sounded like 5pm couldn't arrive fast enough. I explained what had happened.
Her first response was to say she'd never heard of a USB hub damaging peripherals. Now, call me sensitive if you like, but the best way to put my back up is to insinuate I'm either lying or don't know what I'm talking about.
I've been working in a computer-oriented, technical environment most of my working life. I know how to fault-find, I know if a drive works before I plug it into a hub, and I know if it doesn't work afterwards.
OK, so the lady I'm talking to doesn't know my technical background. But it does annoy me – and I'm sure it annoys everyone – when the first response to a complaint is you simply must be mistaken.
I was advised to put my complaint in writing and a prolonged email conversation now started with a 'customer care advisor'.
I told her I wanted to return the item for a refund and compensation for the two storage devices it had damaged, valued at no more than £30. I also asked if they would cover the cost of data retrieval but thought I was pushing my luck a bit with that one.
No conseqential loss
Days later, after having to chase, I was stunned to be told that she'd consulted their legal department who had advised they were not responsible for consequential loss.
More and more time went past, I was again accused of making stuff up, I had to chase consistently, it was alleged that it was taking so long because I was not responding to emails and so on and so on.
When I ordered this USB hub I was what marketers term a 'raving fan'. In other words, I would heartily recommend this company to anyone who would listen, whether they were looking for a recommendation or not.
I was now very bitter and disillusioned.
Cardinal sins
For me, this company had committed several cardinal sins of customer care:
their first response was not one of sympathy for my situation but a very clear positioning of 'it can't be our fault'
I was repeatedly made to feel like I was an inconvenience
it was repeatedly insinuated that I was lying
the legal team's declaration of 'no consequential loss'
Let's consider that last term – consequential loss.
This company could have replaced my damaged items from their own stock, costing them less than the retail value of £30.
A simple history check of my account would have revealed to them that I have spent thousands with them over the years.
Since the start of this debacle I have already spent hundreds of pounds with a competitor.
So who has really suffered the consequential loss?
It's not our fault – it must be yours…
There is an old guard of businesses whose default position is 'it's not our fault' and the customer must be pulling a fast one. Their first instinct is to protect themselves – protect themselves from cost.
But the real cost is in customer loyalty.
I'm afraid to say that some of our suppliers from time to time show this particular trait. And I'm not very tolerant of it.
More than anything else, I want to shield our customers from it.
That's why when you call Jack's Garden Store for help you'll always be welcomed. We genuinely want you to have the best customer experience possible.
With the best will in the world sometimes things go wrong. What differentiates a great company is how they handle this.
We'll always listen to your concerns, and sympathise when things go wrong. We'll try to fix things in the best way we can to suit you, not us.
And we won't default to putting our profit before your customer satisfaction.