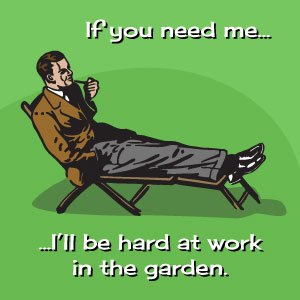 Fed up after months of gloom, frost and rain, our damson tree appears to be summing up the feeling of the garden as a whole with its glorious blossom seemingly rejoicing at the good weather (I feel a poem coming on…).
Seeing this has inspired me to give the garden some well deserved TLC.
Trouble is, my list keeps getting longer by the day as I think of more things that we need, sorry, my husband needs to do to breathe life back into the garden and give it a well deserved facelift.
But I do appreciate my husband isn't getting any younger – and I am concerned about who will do the cooking if he's too busy in the garden. So I've scaled things down and come up with a list of top ideas for creating a new look, dream garden.
I haven't told him yet but I've set aside this weekend to get it all done…no pressure there then. Still, speed's never normally an issue, is it darling?
So, what's there to do?
1. Lawn
I might be stating the obvious, I know, but what better way to get an instant transformation than by getting the mower out and giving the grass a cut after months of being ignored.
Tidy all the overgrown edges of the lawn by re-cutting them and trim all overhanging grass.
And what about adding some of those attractive little wooden border fences to create a straight edged border between the lawn and the flowerbeds. They're a must have for our garden this year.

2. Flowerbeds
A good clear up of your flowerbeds will work wonders. Take up the weeds, cut back overgrown plants and then it's time to add some colour with a rainbow of plants.
3. Pots and Planters

This doesn't have to cost a fortune. A thorough wash will renew old terracotta pots or give your planters a bit of pizzazz with some paint. Add some colourful shrubs or plant with ivy and there you have it.
4. Hanging Baskets
Brighten up dull walls with a waterfall of colour from a hanging basket or two. Lovely.


5. Splash of Paint
You can't beat a good lick of paint to add some oomph to your garden.
Be as indulgent as you want. From plant pots and fence panels to arches, benches, arbours and gazebos..nothing need be spared!
6. Spruce up the Furniture
Clean your tired, old and dirty garden furniture and it will be instantly revived.
And furniture doesn't have to be spared from the paint brush either. Create an inviting, vibrant and fun dining area on your patio with a vibrant array of tables and chairs – and  why not throw in a few bright cushions for good measure. Gorgeous.
7. Add Decking
The piece de resistance and definitely a stylish alternative to paving slabs. The perfect spot to create a wonderful outdoor living area with comfy chairs, patio furniture and colourful potted plants. I'm excited about this one!

8. Water Feature
Create a tranquil idyll in your garden with the sound of gently flowing water. Where better to soothe your stresses away after a long day than in a comfy garden chair with a favourite drink, listening to the calming sound of water. Heaven.
9. Jet Wash the Patio
Grab the jet-wash and transform the stone from dirty grey/brown to its original sandy colour and see how it opens up the area to give the illusion of greater space. Very satisfying.
So, there you have it. Just a handful of things to create my perfect garden. Granted, I may be asking a bit much of my husband to get all this done in a weekend. I think the decking may be pushing it a bit…he can do that next weekend.
As you've probably gathered I'm definitely not one for letting the grass grow under my feet (cheap pun, sorry!).
So set yourself a deadline and with a touch of inspiration why not have a go at sprucing up your garden too.