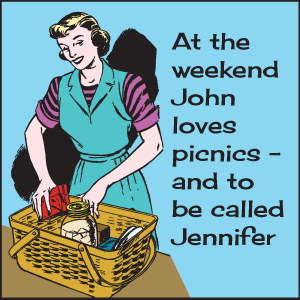 1738 was a momentous year for the English picnic.
This was the year the London department store Fortnum & Mason invented the Scotch egg (you'll never be stuck for a conversation opener again!).
Now, I am rather partial to a picnic it has to be said – although I would happily swap the Scotch eggs for a chilled bottle of wine if I had the choice. There really is nothing nicer on a sunny day than to choose somewhere scenic to go, invite a few friends, pack some delicious food and drink and head off for the afternoon.
**Check out Jacks' Picnic Essentials – Hula Hoops Not Included**
A picnic was originally a 'fashionable social entertainment in which each person present contributed a share of the provisions'. Not like the picnics I do then where everything seems to be left to me! Mind you, I do hope the Portuguese took this meaning into consideration when staging the world record for the largest picnic with over 22,000 people. I'd have certainly drawn the line at making cheese and pickle sandwiches for all of them!!
You can't beat a good checklist when you're going on a picnic. There's nothing worse than unpacking when you get there and finding you've left the corkscrew at home – nightmare!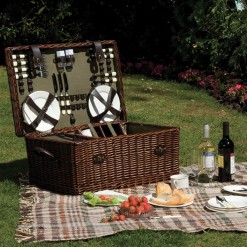 Or, as my husband once did, find you've left the whole picnic at home…
So I'd thought I'd share my checklist of picnic essentials:
Food and drinks (a good starting point)
Ice packs
Plates, plastic cups, utensils and napkins
Wine glasses
Corkscrew/bottle opener
Drinks cooler
Wet wipes
Small tray for the drinks so they don't tip over easily (that's a good tip after many disasters!)
Plastic bags for rubbish
Plastic bag for taking dirty plates, etc., home
Thermos flask for that all essential cuppa!
Umbrella or canopy for shade
Blankets
Folding chairs
Sunscreen
Games
Children (optional)
Oh yes, and talcum powder! Apparently if you sprinkle it around your picnic blanket it'll keep the ants at bay. I've not given that a try yet it has to be said – forget sand in your sandwiches, there's nothing worse than talc in your tortillas!
Of course, what food you take is an entirely personal taste. You can't go wrong with sandwiches, scotch eggs, pasties, crisps, carrots, biscuits and fruit when you've got your kids in tow. But why not push the boat out with a Middle Eastern influence with hummus, tabbouleh, pitta bread, figs and goats cheese or a touch of the Mediterranean with cured meats, cheeses, olives, tapas, roasted vegetables.
But, really, you can't beat cheese and crisp sandwiches 🙂
The Victorians were renowned for loving a good picnic but simplicity was not their strong point when it came to food as you can see in Mrs Beeton's Book of Household Management of 1861. Her "Bill of Fare for a Picnic for Forty Persons" was:
A joint of cold roast beef
A joint of cold boiled beef
2 ribs of lamb
2 shoulders of lamb
4 roast fowls
2 roast ducks
A ham
A tongue
2 veal and ham pies
2 pigeon pies
6 medium sized lobsters
One piece of collared calf's head
Salads
Biscuits
Bread and cheese
122 bottles of drink – plus champagne
Not a hula hoop in sight!
Once the food is eaten – and if you can move after your veritable feast – there's nothing like a good run around in the great outdoors so don't forget your frisbee, bat and ball, kite or football for some fun in the sun.
Or do as I do and just lie down.
How lovely to think we have months of picnics ahead. And with Jack's choice of picnic essentials from hampers to chairs, blankets to games, there'll be no excuse not to pack up the car and head off for an afternoon of fun.
Just don't forget the picnic!
**Check out Jacks' Picnic Essentials – Hula Hoops Not Included**
Mole and Ratty's picnic in Wind in the Willows:
The rat fetched a wicker picnic basket. "Shove that under your feet!"
"What's inside?"
"There's cold chicken inside," said Rat, "cold-tongue-cold-ham-cold-beef-pickled-onions-salad-french-bread-cress-and-widge-spotted-meat-ginger-beer-lemonade — "
"Oh stop!" cried Mole in ecstasy. "This is too much!"
"Do you think so?" said Rat, seriously. "It's only what I always take on these little outings."