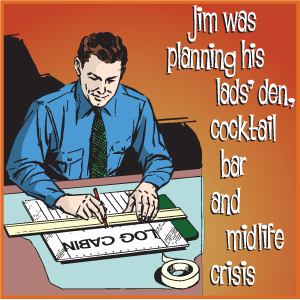 Karaoke machine, poker table, bar, sofas, soft lighting….
I'm not describing my night out with the girls last Saturday. No. All of this can be found at the bottom of my next door neighbour's garden. Yes, he has had a log cabin built and the local hot spot is now by the back gate at number 12.
Midlife crisis does spring to mind (I'm anticipating a smoke machine and pole dancers next) but as long as I get an invite I'm not complaining – although perhaps the neighbours will once they've heard my rendition of Mama Mia….
Of course this may not be everyone's cup of tea – or pina colada – but it does go to show what fun you can have with a log cabin in your garden. The possibilities are endless.

And don't just think of a log cabin as a summer building. There's no reason why it can't be used all year round.
It just takes a little thought and creativity with insulation – particularly with the roof and floor which accounts for 70% of heat loss (can you tell I've done my research??).
So, with this in mind, I thought I would jot down a few ideas for you consider if you're wanting to make use of your log cabin throughout the year.
Wood Thickness
Logs are quite good thermal insulators and the thicker the log the more heat efficient it will be – no surprise there then!  So bear in mind that a 70mm log cabin will retain heat better than a 44mm log cabin due to its increased wood density.
So perhaps it's worth splashing out on a slightly more expensive 77mm cabin as, long term, maintenance costs will be lower thanks to the higher efficiency heat retention. Just a thought.
Glazing Thickness
Single glazed windows are less heat efficient than double glazed (again, no surprises there!). A lot of log cabins have the option of upgrading or come with double glazing as standard. So it's worth checking.
Floor Insulation
The flooring in most log cabins is made from tongue and groove boards nailed to pressure treated bearers so you can fit insulation beneath the floor and between the joists.
Underfloor Heating
Most cabins are built on bearers that raise them from the ground which is the perfect space for underfloor heating. This is ideal for spreading the heat evenly across the floor. Controlled by an electric thermostat, you can set the temperature and the times you want to heat your cabin.
Roof Insulation
Roof insulation can be fixed in the cavity above the roof boards.
Check out this link on log cabin advice to see what the experts have to say on roof and floor insulation.
Roof Shingles
Roof shingles can help reduce the heat lost through the roof as well as providing extra protection against the weather.  A majority of log cabins have these as an optional extra (the Lasita Maja range of log cabins being an example).
Carpeting
Why not add some underlay and carpet to your log cabin floor for a simple way to add some warmth.
Curtains
Hang some curtains at the windows for that cosy feeling and to keep any draughts at bay.
Run an Electricity Supply to your Cabin
Essential if you are wanting heating, lighting, music or office equipment, – and, most importantly, a kettle. Plan what you want to power in your cabin and consult an approved electrician. Having electricity will make your cabin really feel like a home from home.
So now you've taken all this into account, all you need to do is think about what you want to use your log cabin for.

Go to town, have some fun. Here are a few ideas to whet your appetite.
Kids' den
Hot tub room
Home gym
Garden room hideaway
Games room
Music studio
Hobby room
Guest house
Outdoor bar
Dog house for your husband….
So, whatever tickles your fancy, whether it's somewhere to relax, somewhere to entertain or somewhere to clawback your youth – check out Jack's fabulous range of log cabins in a variety of designs, sizes and log thicknesses – all at competitive prices with free delivery!