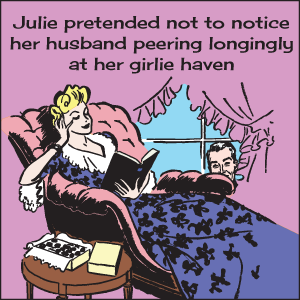 Yes, I know. This is going to go down the stereotype route. But the trouble is my husband and I are unfortunately at odds over how we are going to do up our new summer house.
Are we to go with my idea of a girlie haven or his idea of a man den?
Now, of course, it is a given that my idea will take fruition but I thought I'd better humour him for the time being.
For all us ladies, can you think of anything more heavenly than shutting the door behind you in your summerhouse hideaway, taking refuge in sumptuous surroundings and completely switching off from reality? It doesn't have to take much:
Cushions
Bean bags
Comfy chair
Soft rug
Throw
Curtains
Fairy lights
Josticks
Tea lights
Wind chimes
Wine fridge (fully stocked)
Poster of Marc Warren(!)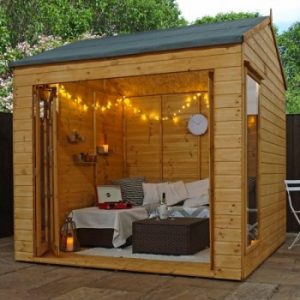 Now that, to me, is my idea of heaven. Add some paint for decoration inside and out, a brightly coloured door framed by potted plants and hanging baskets and you really do have the perfect girlie haven.
My husband has other ideas.
Fair enough – fairy lights and wind chimes don't exactly do it for him. His idea of the perfect man den includes:
Flat screen tv
Mini bar
Beer fridge
Karoake machine
Games table
Poster of Kylie Minogue (he should be so lucky..!)
We really are poles apart aren't we? Does make you wonder what we have in common other than the children, doesn't it?! Or, in fact, how we had children in the first place….
I know I should make a few concessions, especially as he is the one who is going to insulate the summerhouse and run electricity to it for the lighting and heating so we can use it all year round.
So I'm happy to make room in half of my fridge for his beer.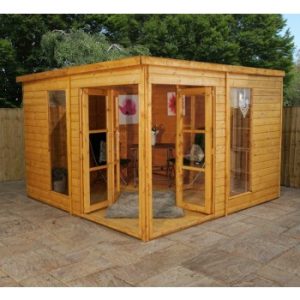 We could, of course, turn the summerhouse into something that would suit us both:
Family room
Children's playroom
Gym (for our New Year's resolution….again)
Art studio
Hobby room
Home cinema
Games room
But, from a totally selfish point of view, the idea of having my very own bolt hole for some peace, quiet and relaxation has won me over.
Of course, I would never exclude my husband and he would be welcome (on occasions) – with a little channelling of his feminine side he could feel quite at home. As long as he brings his own beer….
So, whether you are after a girlie haven or a man den – or a compromise for both of you – look to Jack to give you some inspiration with his fabulous range of summer houses and log cabins.
And if you need any advice on buying a summerhouse check out Jack's buyer's guide to summerhouses for his pearls of wisdom.