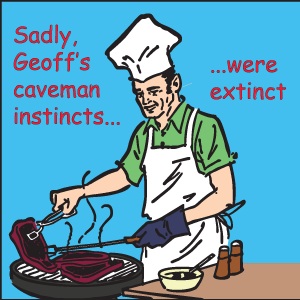 We invested in our first firepit barbecue at the beginning of the summer and I can safely say the inner caveman has definitely come to the surface in my husband over the last couple of months.
Not the throwing me over his shoulder or preference for walking around naked – that's always been a given.
No, he's resorted to the stereotype hunter gatherer and chief cooker of meat (well, soya actually – he's a vegetarian caveman so slightly against type).
Apparently "the hunting ability….ranked supreme among seductive qualities" in cavemen.
Now, I'm sure you'll agree that nipping to Morrisons isn't exactly hunting and, to be quite honest, it isn't my idea of being seductive. Although, to be fair, my husband has taken his life in his hands on a few occasions fighting off shoppers after a bargain on the discount shelf – a sabre tooth tiger has nothing on them…
And being "the possessor of the meat and in control of the food and the fire was all about male prestige and dominance…to impress the females."
Mmmm….not sure how that translates to modern day – throwing a few sausages and burgers on a barbecue, tossing them every once in a while and then slapping them between a bun with a squirt of ketchup?? Maybe it's the size of the tongs we should be impressed with….
But I do have to give my husband his dues on this one and say he actually does do a good barbecue.
So I thought I would share with you the rather fabulous menu he created this weekend for our carnivore friends – put together, I might add, in true caveman style using food typical of their diet of lean meat, nuts, fruit and berries (although, granted, with the odd embellishment here and there).
Chicken Barbecue Satays
Chicken breasts (soya fillets for us vegetarians)
3 tbsp dark soy sauce
3 tbsp rice wine
juice of 1/2 a lime
one red chilli, finely chopped
2 cloves garlic, crushed
thumb sized piece of ginger, peeled and grated
Combine ingredients.
Dice chicken into one inch chunks
Submerge chicken/soya in marinade ensuring completely covered (add more soy sauce or rice wine if necessary)
Cover and leave for at least one hour (preferably longer)
Skewer chicken/soya – 5 pieces on a skewer
Barbecue, turning regularly, until cooked through
Serve with satay sauce
Satay sauce
2 tbsp crunchy peanut butter
1 tbsp coconut milk
1/2 tbsp hoi sin sauce
1/2 small onion, finely chopped
1 tbsp chopped fresh coriander
Combine all ingredients
Sprinkle some coriander over the top
Add more coconut milk to get consistency right if needed
Sozzled Bananas in their Jackets
Bunch of bananas
Grand Marnier (or choice of liqueur)
Ice cream or cream
Keeping the skin on, slice bananas down the middle
Cook flesh side down
Turn onto skin side
When flesh pulls away from the peel they're done
Pour Grand Marnier over them
Serve with ice cream or cream
Strawberry Gin Smash Cocktail (serves 1)
3 oz gin
Club soda
1/2 tsp sugar
1 wedge of lime
2-3 fresh ripe strawberries, 2 sliced, one for garnish
Combine sugar and lime juice in tall glass
Stir until sugar dissolved
Add sliced strawberries and stir
Fill glass with ice
Add the gin
Top with a splash of club soda
Garnish with strawberry
The cocktail was my contribution to the evening by the way……
A good evening of alfresco dining was had by one and all. And I definitely noticed a lot of tong envy going on amongst the men it has to be said!
Enjoy hours of outdoor entertaining on one of Jack's fabulous garden furniture sets. And bring out your inner caveman with his superb range of barbecues and firepit tables.
As for his tongs….