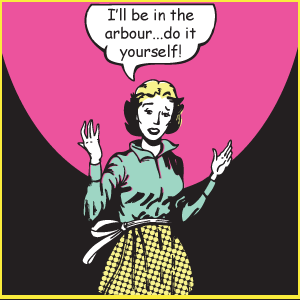 Shut your eyes and imagine yourself relaxing on comfy cushions in a corner of your garden on a summer's day surrounded by fragrant jasmine and climbing roses, wind chimes gently jangling in the breeze, an array of vibrant flowers hanging in baskets above your head, fairy lights glimmering as the evening draws in.
This gorgeous calming haven can be yours with the simple addition of a wooden gazebo, arbour or pergola to your garden.
Create your perfect seating area with comfy garden furniture under a pergola or in a gazebo or choose a garden arbour that comes with a seat.
And once you've chosen the design for you now it's time for some fun…
Decorating Your Gazebo, Arbour or Pergola
Lovely focal points as they are, a gazebo, garden arbour or pergola do lend themselves to some adornment. It just takes a little thought….


Fun With Paint
With a rainbow of colours to choose from, why not paint your arbour in subtle shades to blend beautifully into your garden or go a bit mad and jazz up your gazebo with bright colours to really make a statement. Go on, go to town.
Climbing Plants
Honeysuckle, wisteria, sweet peas and moonflowers. Such a variety of wonderful climbing plants would look gorgeous growing up and over the sides. All you need are some colourful pots or planters around the base and watch your pergola transform into a beautiful mass of fragrant flowers.


Fairy Lights
Deck out with strings of tiny lights that you can wind from the base up and around for a magical fairy-tale feel. Why not choose white for a touch of elegance or a splash of fun with multi-coloured lights for that party feel. Battery or solar powered lights are always a safe bet and you can choose from a variety of shapes, sizes and colours to help you create whatever atmosphere you want.
Lanterns and Colourful Glass Candle Holders

Adorn with colourful candle holders and paper lanterns. Or why not add some wooden or metal lanterns for a more rustic feel. Perfect for an evening of entertaining.
Wind Chimes
There's nothing more soothing than the gentle sound of wind chimes jangling in the breeze to help you relax and escape from the stresses of the day.


Hanging Baskets
Hang an array of baskets of vibrant flowers from the roof for that extra splash of colour.
Bird Feeders
Bring your gazebo to life and do a spot of bird watching with a selection of bird feeders hanging from the roof.
Scarves
A bit unusual I know but go with it. Brightly coloured scarves hanging from the roof timbers and gently waving in the breeze would look lovely – but remember to use scarves that won't bleed their colour in the rain.
Colourful Cushions and Throws
Add a touch of luxury with brightly coloured, comfy cushions and patterned throws.
Fountain
Create a tranquil getaway with the calming sound of trickling water from a water fountain by the entrance to your gazebo or arbour.


Of course, it's probably an idea to show a little restraint and err on the side of subtlety. If you tried all of these ideas together there wouldn't be any room for you!
There really is no end of things you can do to jazz up these lovely structures. It just takes a little imagination.
Or you could just stain the wood and enjoy the design as it is.
The choice is yours.
Go on, take the plunge and create your perfect garden haven. And let Jack help inspire you with his wonderful range of garden arbour seats, wooden gazebos and pergolas.