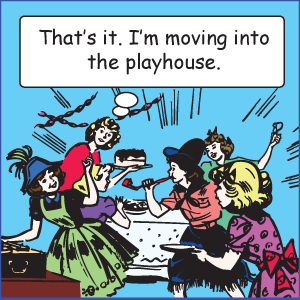 Dare we tempt fate?! After months of dreaming of long, lazy days in the garden it looks like they are finally on their way. So now's the time to start planning ways to entice the children away from their computers and back into the garden to re-awaken their long buried interest in the outdoors.
And what better way to keep them entertained for hours, come rain or shine, than in their very own home from home – a playhouse.
The kids will love their own space outdoors, you'll love reclaiming your own space indoors…everyone's a winner.
So what pointers do you need to think about when buying a playhouse?
Style
With so much choice nowadays, where to start?

What about a:
small cottage
split level house
bungalow
house with a balcony
detached house with verandah
Or why not go for something whacky like a:
And not forgetting ones with:
There really is no end of fun to be had – you'll never get them in for tea!
So once you've decided what style your kids will love, what else is there to consider?
Material
Plastic or wood? That is the question.
Plastic playhouses can be bought ready made needing little or no assembly and are pretty much maintenance free. On the whole they are smaller and slightly cheaper than wooden playhouses and are ideal for younger children.
Do remember that plastic will fade and deteriorate over time, however.
Wooden playhouses, in my opinion, are far better value for money. They not only look more pleasing in your garden but are more durable and offer a far greater range when it comes to design and size compared with plastic play houses. OK, they too will weather over time and they will need to be treated – although most do come already pressure treated and some with a 15 year guarantee against rot – but it only takes a little wood stain, paint and love to get them looking like new again.
And don't worry if DIY isn't really your thing. Nowadays the kits are pretty straightforward and come with pre-cut pieces along with all the fixtures needed.
And if that still doesn't sound appealing, why not plump for an installation service that many suppliers now offer – see Jack's range of Mercia wooden playhouses. Problem solved.
Cost and Size
How much do you spend? And what do you get for your money? You'll find that once you start looking it won't be hard to find a variety of great value wooden garden playhouses to choose from:
a small 4×4 wooden playhouse will set you back between £150 to £200
a good sized 5×5 raised playhouse with slide costs about £450
a sizeable 8×8 double storey playhouse costs between £500 and £600
So, really, if you are prepared to pay somewhere between £150 and £600 you can't fail to get a fabulous play house for your money.
This is one house you won't need to take out a mortgage on.

Oh yes, one last thing. Do check the playhouse comes with the relevant safety standard BS EN71 which any outdoor toy sold in the UK should conform to which makes sure, among other things, safety glazing is used (rest assured – all Jack's playhouses do conform).
So you now have everything pretty much covered. All you need to do is find a suitable spot in the garden – preferably where you'll be able to see the playhouse (and what the kids are getting up to more to the point!) well from the house.
Big, small, double storey, whacky – you name it, we've got it. So take a look at our amazing range of playhouses and good luck finding the perfect playhouse for your kids!