Garden Sheds  are a great addition to many gardens throughout the UK offering both additional living space and lots of extra storage for garden tools and furniture that you do not want to keep in your home!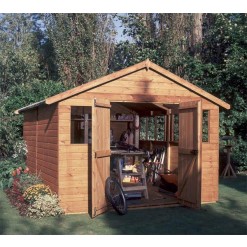 Garden shed
At Jacks Garden Store we have created a list of the top 10 things that are kept in garden sheds and which type of shed is best to keep these items in.
Top 10 things to keep in a garden shed:
Gardening Tools – Whether you have a sit on lawn mower or a simple strimmer they are all kept in garden sheds. Garden shears, hoes, spades and other large gardening equipment are best kept outdoors in a shed to allow easy access and to prevent dirt getting into your home. If you have lots of expensive gardening equipment it may be best to consider purchasing either a metal shed or any kind of garden shed that does not have windows in order to increase security.
Garden Furniture– Keeping garden furniture in a shed sheltered from the elements will help to preserve your tables and chairs and increase their lifespan. If you are planning to keep furniture in your shed you should consider purchasing a shed with double doors to allow easy access in and out of the shed.
Tools – If space is limited indoors keeping your tools in a shed can allow you easy access to your screwdrivers, hammers and other tools. Shelving and tools racks can be attached to the inner walls of your garden shed to enable you to keep your tools organised and within easy reach.
Children's outdoor toys – Garden games are a great way of entertaining children but again thanks to the good old British weather cannot be kept outdoors all year round. Keeping your child's outdoor toys and trampolines in a garden shed allows easy access to their beloved playthings. You must always ensure that you keep the toys away from any sharp gardening tools or poisonous substances you keep in your shed.
Bikes – Garden sheds are great for storing bikes, however if you are short on outdoor space you may want to consider purchasing a bike store instead for your garden. A bike store is perfect for those with compact gardens and limited space.
Junk – Unfortunately hundreds if not thousands of garden sheds across the UK are filled with Junk! Much needed additional storage space is filled up with items that need to be binned! If you know someone whose shed is in need of a massive clear out get them to read this blog on how to organize a garden shed.
Paints and treatments – Tins of paint and furniture treatments can be stored away in a shed out of reach of children. Organise your pots my using shelving in your shed.
Radio – Whilst you are working outdoors playing music can make it a far more pleasurable experience.
Plant pots and tubs – Old plant pots are often stored in garden  sheds. Stack them neatly in order to keep your shed neat and tidy.
Hobbies and collections – Garden sheds can be used as additional living space as well as great storage. A shed can provide a great stop for you to enjoy a hobby. If you are planning to spend a lot of time in your shed ensure that you have a shed with windows to allow plenty of light and if your budget permits try to find one with insulation and/or heating.
For a fabulous range of garden sheds and other outdoor storage solutions including bike stores and garden storage chests visit Jacks Garden Store now and shop online.
Good Luck
Gardener Jack!