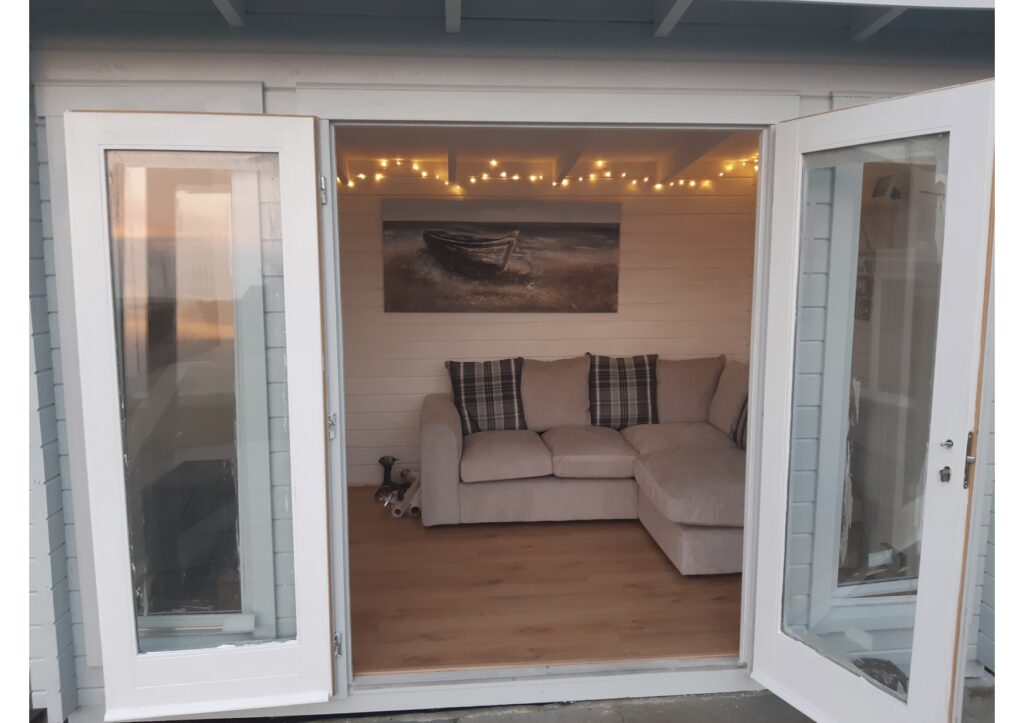 A summerhouse is not just for summer.

A summerhouse should give you pleasure throughout the whole year.

So here's a heads up on how to keep your summerhouse warm and toasty and inviting as the temperatures drop.

Insulation

70% of heat will be lost through the roof and the floor.

Therefore fitting good quality, fire retardant insulation under the floor boards and above the roof boards is the best way to help give your summerhouse year-round control of the temperature.

Check out my blog How to Insulate a Log Cabin for pointers on this.
Heating Options with Electricity
Having electricity in your cabin will give you a wider choice of heating options with varying temperature controls.

See my blog How to Run Electricity to a Garden Building for advice

Electric Convection Heater

* Can be wall mounted or free standing
* Heats air quickly and more efficiently than a radiator
* Many designs enable a comfortable temperature level to be be sustained with a thermostat and 24 hour timer
* Easy to install
* Good value for money

Electric Radiator

* Wall mounted
* Electric element inside the radiator heats up and can be connected to a timer and thermostat
* Relatively low cost to run
* Slow to heat up and may not be ideal to heat larger summerhouses

Electric oil-filled radiator

* Free standing
* Will stay warmer for longer when switched off as the oil inside the radiator retains the heat
* Thermostat and timer option
* No installation cost
* Can be slow to heat so recommend they are used with a timer

Electric Fan Heater

* Portable or fixed
* Best design for circulating heat around your summerhouse
* Consume a lot of energy and therefore can be expensive – best to keep a track of the time they are being used

Halogen Heater

* Portable
* Halogen elements and not the electrical coils give out the warmth
* Extremely energy efficient
* Outlay more expensive than other heating options, however, cheaper to run
Underfloor Heating

* Perfect for heating all of the summerhouse and not just localised areas
* Mesh element is fitted beneath the floor
* Bear in mind additional floor covering will be needed and should maintenance have to be carried out this would have to be taken up
* Expensive to install compared with heating options above
* Must be carried out by suitably qualified electrician
Heating Options with No Electricity Supply Needed

Solar Powered Heating

* Economical
* Solar panels fitted to the roof create heat through water which is fed to a radiator
* Safe and great for the environment
* You will need to decide the amount of power you want to generate and therefore the number of panels needed

Log Burning Stove

* Energy efficient
* Provides a quick means of heating up your summerhouse
* Great for retaining heat
* Cosy
* Possible expensive outlay, however, low running costs
* Installation must be done by a HETAS (Heating Equipment Testing and Approvals Scheme) engineer
* Always install a carbon monoxide alarm with a log burner
And don't forget:
Carpets and rugs
Curtains – a great way to keep the draughts out