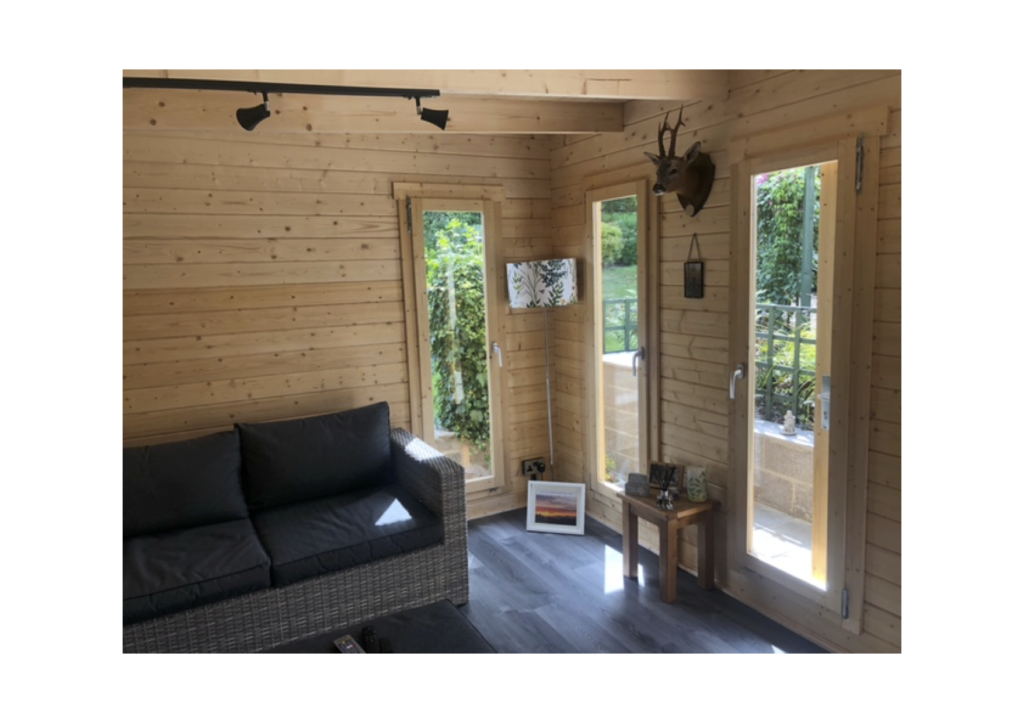 You've designed your perfect garden bolt hole, a blissful space to put your feet up and escape to for some peace and quiet, for afternoons of contemplation.

Somewhere to forget about the washing up and cleaning the loo (mind you, I don't need to be in a summerhouse to forget about doing either of these!)

A place to unwind in your favourite comfy chair. Perhaps with some twinkly lights to add to the ambience.

The last thing you want is a build up of mould invading your space.

Certainly not part of the aesthetic you were wanting to create.

Condensation is unfortunately inevitable in a summerhouse or garden room, especially if the building has been shut up and not used for a while and temperatures have been fluctuating. Moisture will build up on the windows and doors and, if this is left and not dealt with, it will soak into the timbers.

This will lead to mould.

It is therefore extremely important to do what you can to keep the moisture at bay and prevent it from leading to damp and mould.

How?

Ventilation

If you want to avoid a build up of moisture and condensation, it makes perfect sense to keep your summerhouse well ventilated.

The simplest way is to:

Open the Windows and Doors

Properly airing your summerhouse is the best way to prevent moisture building up.

Opening up the windows and doors for a few hours at a time to get air flowing inside, creating a through draft, helps flush out the moisture and dry out the timbers.

To get the air flowing, it is also a good idea to install:

Air Vents

These will keep the air circulating in the summerhouse and create a drier atmosphere.

You will need two, preferably installed at the top of opposite walls.

Top tip – ensure there are mesh backs on the vents to keep insects out!
Moisture capsules are also a great way to draw the moisture out of the air and prevent condensation building up.

Treatment

Not only is it advisable to treat the outside of the summerhouse against the effects of the weather, it is also a good idea to treat the inside walls of the summerhouse to help prevent the build up of moisture.

See my blog How to Protect the Inside Walls of a Summerhouse

A lot of summerhouse and log cabin manufacturers do recommend treating the inside of their buildings and you may prejudice the guarantee if you don't. Always check.

Heating

It stands to reason that a good source of heat is a good way to keep damp at bay.

Convection heaters, radiators, fan heaters, log burning stoves…

With or without electricity in your summerhouse, there are a variety of heating options available – see my blog How to Heat a Summerhouse for advice on this.

Insulation
By insulating the roof and floor of your summerhouse, you will be able to help retain the heat and therefore keep moisture at bay and the temperatures more stable.
See my blog How to Insulate a Log Cabin for advice.

So just by keeping all of this in mind and following these pointers, you are doing what you can to keep your summerhouse damp and mould free.