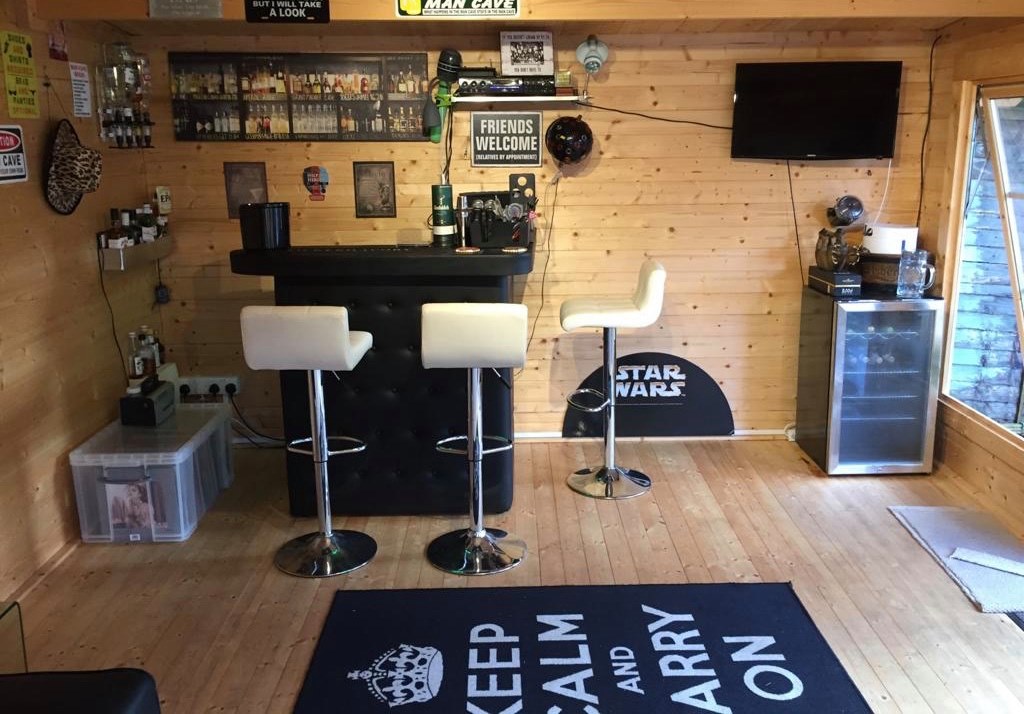 Just think. The best hotspot in town could now be by your back gate. You'll be the envy of your neighbours and you'll never get your friends to leave!!
Enjoy nights out by having nights in at your very own bar, whenever you want, all year round. The perfect spot for friends and family fun times with cocktails, wine, food and games – and no doubt the odd song or two!
TAKE A LOOK AT ALL OUR LASITA CABINS THAT COME WITH A BAR AS AN OPTIONAL EXTRA!
So, where to start?
I've put together some ideas you may want to consider for your perfect cabin bar.
1. Bar – choose a suitable design to fit into a corner of your cabin
*Recommendation* – Lasita's The Bar – solid timber, 28mm log thickness, reversible L-shaped bar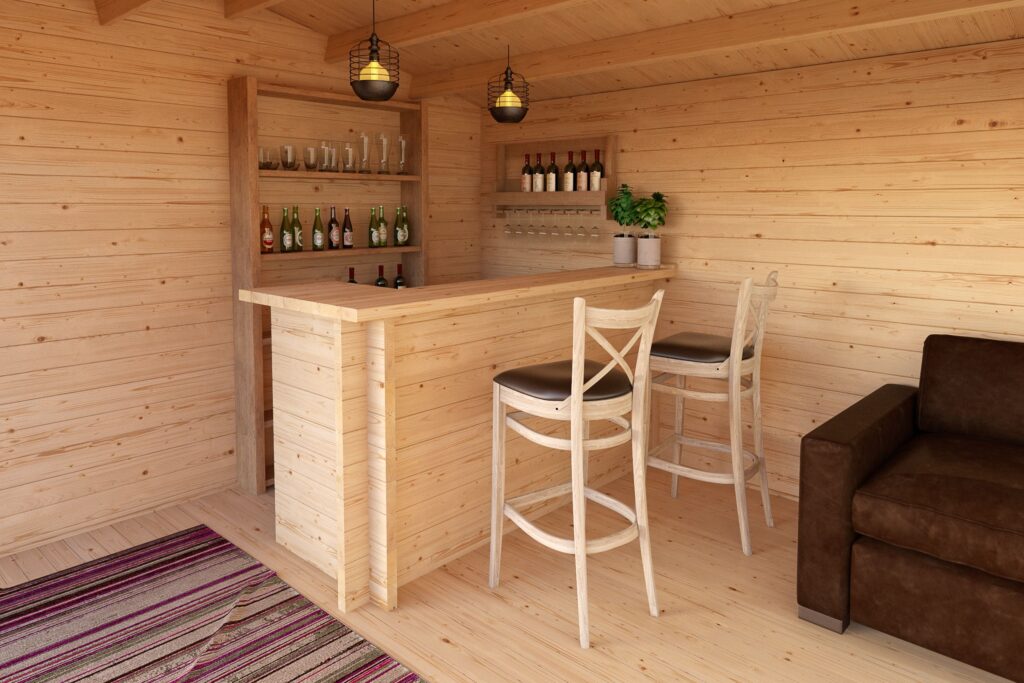 2. Bar stools or chairs
3. Shelving for your bottles and glasses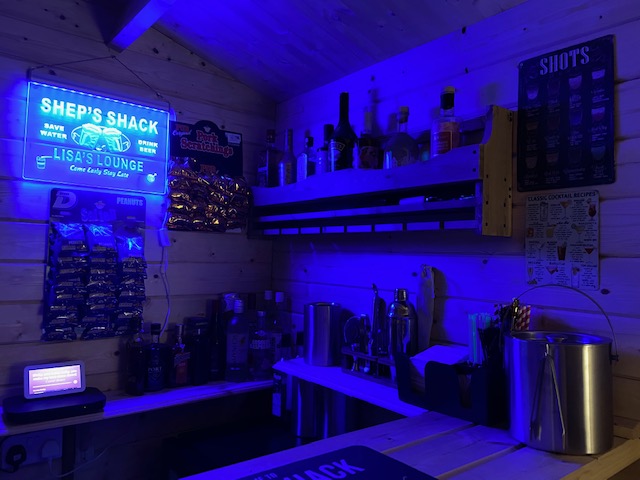 4. Optic drink dispensers – to create a real pub feeling for your cabin!
5. Wine/beer fridge – to keep your drinks chilled together with a good supply of ice
6. Comfy seating area – for your guests to enjoy their drinks from.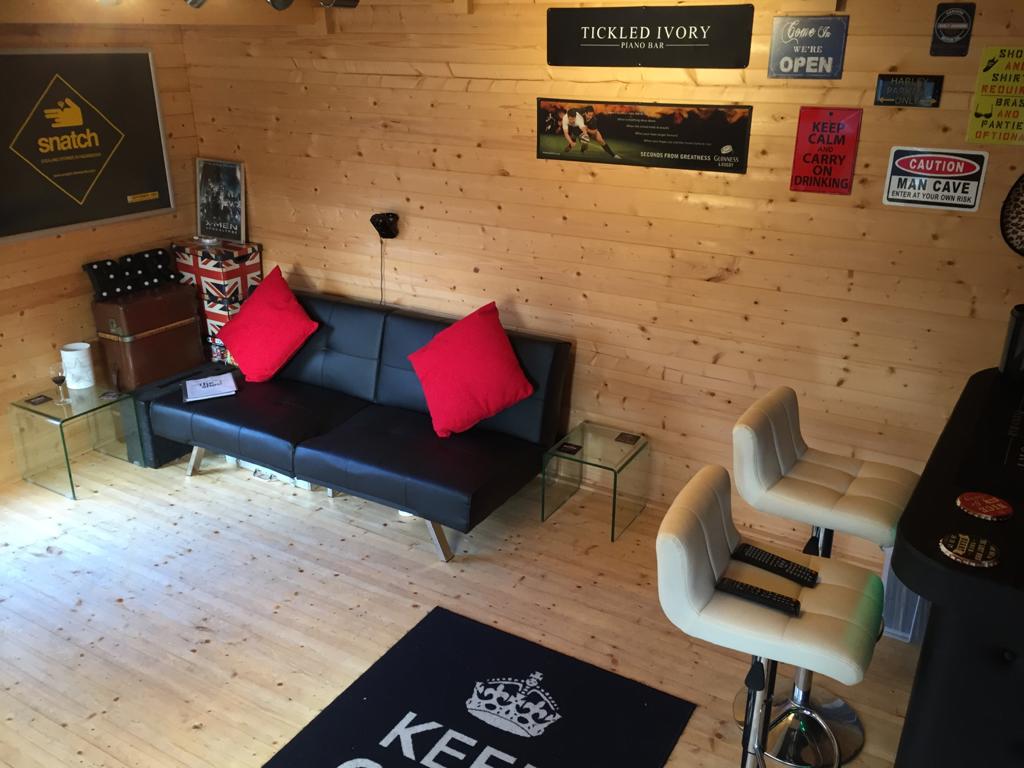 7. Music
8. Karoake machine – surely a must for a fun filled, drink fuelled evening at your bar – although be aware of your neighbours at 1am when you're belting out your rendition of Stairway to Heaven…unless your neighbours are doing the belting with you of course!!
9. Disco lighting – why not go the whole hog for your Friday and Saturday night lock-ins!
9. Decoration – quirky signs, mood lighting, pictures, painted walls, rugs, etc., – the ideas are limitless for you to make your bar the most inviting and fun environment you can.
10. Heating – a consideration for keeping your guests toasty on colder evenings – see my blog How to Heat a Log Cabin for advice on this
Then there's the tv, pool table, dart board, fruit machine, poker table… You really could go completely bonkers depending on how much of a social hub you want to make it – and, more importantly, how much time you plan to spend in there!
On the practical front, you will need to run electricity to your cabin to make this all happen – see my blog Running Electricity to your Log Cabin for information and advice about this.
Of course this may not be everyone's cup of tea – or pina colada – but, to be honest, who wouldn't want their own bar at the bottom of the garden?