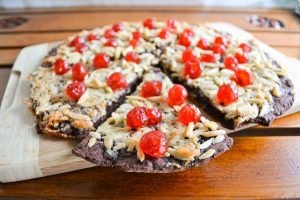 On the off chance you haven't overdosed on chocolate this Easter, how about this for a fun idea.
Pizzas made with left over Easter eggs.
I don't know about you, but this really is my idea of heaven.  And what a sublime alternative to a margherita… a rich, gooey, chocolate dessert with a bit of crunch and whatever combination of chocolate and toppings that takes your fancy. Scrummy.
** See our PIZZA OVEN SPECIAL OFFERS **
Dough Recipe
500g strong white flour
60g cocoa powder (optional – depends how chocolatey you want your pizza!)
1/2 pint luke warm water
2tsp quick yeast
pinch of salt
Knead together (by hand 10 mins)
Leave to prove in warm spot until doubled in size – usually an hour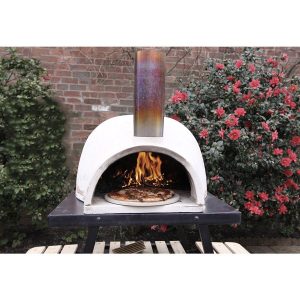 Then you're good to go.
Check out my tips on how to cook perfect wood fired pizzas
See what you think of these yummy topping ideas…
Smores Pizza
Top the pizza base with crushed digestive biscuits
Add a generous handful of broken up chocolate Easter eggs and a layer of fluffy marshmallows
Pop into pizza oven until the chocolate is melted and the marshmallows are lightly browned on top
Chocolate Hazelnut
Smooth chocolate-hazelnut spread over the pizza base
Sprinkle with broken dark and white chocolate Easter eggs
Cook in pizza oven until the chocolate begins to melt
Sprinkle with chopped hazelnuts
Or top with sliced banana, strawberries, raspberries – any fruit of your choice for a (slightly) healthier option.
Chocolate Ginger Cherry
A little more adventurous. Opt for the chocolate dough base.
For the pizza sauce:
100g grated cheese
60g sugar
1 medium egg, lightly beaten
1 tsp ground ginger
Combine the cheese, sugar and egg in a bowl, beating well with a fork
Stir in the ground ginger
Sprinkle handful of flaked almonds and broken up Easter egg over base
Cover with the cheese and ginger sauce
Put maraschino cherries on top of the sauce
Sprinkle with more almonds and chocolate
Pop into pizza oven
Roasted Fig, Walnut and Chocolate Pizza
Add marscapone cheese, figs, walnuts and a drizzle of honey to the base
Sprinkle with a generous handful of dark chocolate Easter egg
Pop into pizza oven
Chocolate, Cheese and Bacon
An acquired taste, perhaps, but go with it.
Top the chocolate pizza dough with mozzarella and gorgonzola
Add caramelized onions, fig puree and plenty of bacon
Sprinkle with broken pieces of dark chocolate Easter egg
Pop into pizza oven
So go on, give yourself one last indulgence this Easter. There's plenty of time for sit-ups… 🙂