There really is no better way of adding extra pops of colour than with an array of vibrant flowers and shrubs, flourishing in hanging baskets, dotted around the garden.
I've always found a lovely selection to choose from at my local garden centre. But the plants only ever last for the summer. And it can be expensive when buying a few which I like to do.
With this in mind, I thought I'd set myself a challenge this year and be inspired to create my own hanging baskets with a mixture of flowering shrubs and evergreen plants that will last though the winter and thrive again next year. And save some money at the same time.
Creative and economical.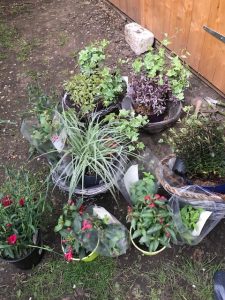 So I spent a most enjoyable Sunday morning picking and choosing a multitude of plants to experiment with my hanging baskets.
And then whiled away the afternoon mixing and matching and deciding what to put with what.
I have to say I was over the moon with the results. It's made me wonder why I haven't done it before. They look fabulous. And all my own work. I certainly won't be buying ready made hanging baskets again.
So what plants did I choose?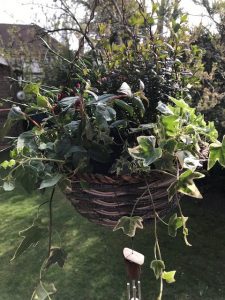 Ivy
I love trailing ivy and I used this in all my baskets.
Hardy in cold weather, ivy is an excellent choice for year-round hanging baskets and perfect for lovely, leafy, flowing displays.
Hebes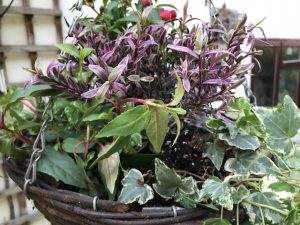 I chose a selection of evergreen hebes as they add a colourful punch throughout the year with bright foliage that intensfies in the winter and gorgeous flowers in the summer and autumn.
A good way to maintain interest throughout the year.
Evergreen Grasses
Providing year round colour, these are easy to grow, low maintenance and cold-hardy.
I particularly liked the Carex oshimensis, a very distinctive Japanese Sedge with striking narrow, arching, rich green leaves with cream edges. It's a stunning ornamental grass and contrasts beautifully with the other plants.
Trailing Fuchsia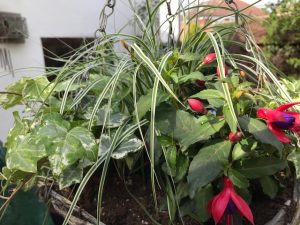 Little gems of vivid pink tubular flowers, the trailing variety of fuchsia have weak stems that flop and branch more freely, perfect for planting in hanging baskets.
Flowering all summer, I thought they would be a glorious addition to my baskets and perfect for adding a zing of colour next to the ivy and grasses.

Early Flowering Carnation
Flowering between March and September, this semi-evergreen upright, bushy perennial, with rich, deep red double blooms on grey-green foliage, is a fabulous way of adding long-lasting colourful interest to the baskets over the summer.
So, go on, take the plunge and have a go. Enjoy choosing whatever plants you want to put together and create sensational baskets for your garden for the summer and the rest of the year.
I'm so looking forward to reaping the benefits of my work and delight in the lush foliage and radiant flowers as they flourish while I laze in the garden this summer.
Oh yes. A handy tip – I've discovered my local Morrison's sells plants and shrubs at half the price of the garden centre! Definitely worth a visit.
Have fun 🙂