When is a black cab not a black cab? When it's a garden shed.
No, this isn't a really dreadful Christmas cracker joke. This is a runner up in the Cuprinol Shed of the Year Competition 2018.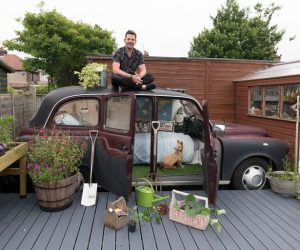 It just goes to show that with a quirky imagination and a spot of creativity, the sky really can be the limit when it comes to the good old garden shed. Anything goes.
So don't settle for boring. Be inventive, be imaginative, be inspired. It's time to start thinking outside the shed 🙂
Winner – The Bee 'Eco' Shed
A fabulous eco-friendly, self-watering and self-sufficient space for vegetables, herbs, bugs and bees with two beehives and a bug house.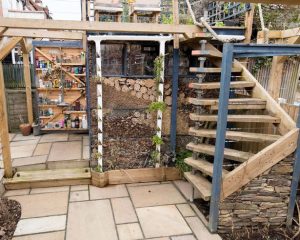 "We hope our shed will inspire others around the UK to create spaces for wildlife in their gardens," said winner George Smallwood.
"We're so proud that our shed has become a habitat for nature in a small urban garden, showing you can always do your bit for making a home for nature."
O'Smithers – Pub and Entertainment Finalist
A rugby themed-bar in the style of a commercial Irish pub complete with a 25ft replica of the Blackpool Tower on the roof.
By all accounts the local hotspot after doubling in size in 3 years due to its popularity. Beats tea at the allotment!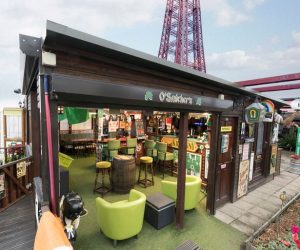 Piano Raft – Unexpected/Not A Shed Finalist
Certainly an off-the-wall idea, this quirky shed has taken 5 years to build using re-claimed materials and is now being slowly transformed into a musical instrument.
Bottle Shed – Eco Finalist
A unique space with wacky ideas including messages and ships in bottles and built entirely of repurposed staircases, windows and doors.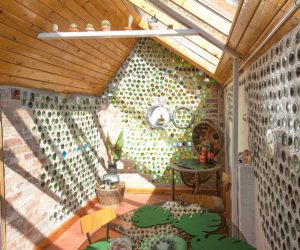 Viking Bauhutte – Workshop & Studio Finalist
Constructed with fabulous craftmanship, this eye-catching shed is used as a workshop, an artist's studio and a family craft room. The viking motif sprung to mind as the shed took shape and began to look like an upturned boat.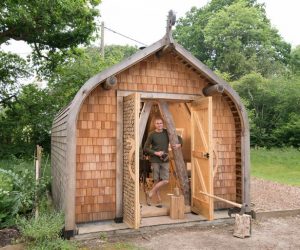 Buena Vista – Budget Finalist
This fantastic, cleverly designed shed built to reflect the environment around it certainly makes a statement. Each panel relates to, and represents, the surrounding landscape from the nearby stream and wood to the local Iron Age hillfort. Clever.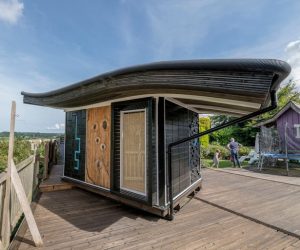 Boat Pod – Unique Finalist
Built from the upturned bow section of an original decommissioned fish trawler built in 1945, this has been lovingly created to give an authentic feel. It features an original mast-step, engineered oak flooring, a sail canvas door and has been re-corked and made watertight using marine resin.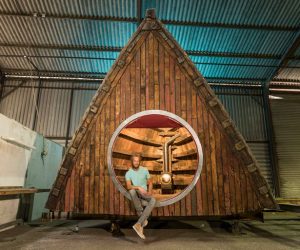 So go on, get your creative juices flowing and have some fun.
Sheds really don't have to be used only as a home for your wellies, flower pots and lawnmower.
We'd love to see your creations!