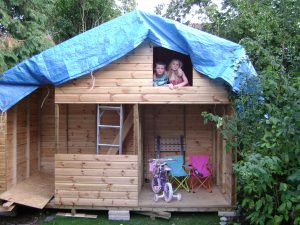 10 years ago my husband designed and built a playhouse for our then 7 year old son and 5 year old daughter.
It had an upstairs den with a ladder. There were two separate rooms.
We filled it with toys and cushions and dressing up clothes. We stuck pictures on the walls.
We had visions of them enjoying long afternoons together, playing house, inviting friends for tea, for years to come.
Well, that didn't happen.
My daughter was wary of spiders in the playhouse. My son was wary of my daughter in the playhouse. They didn't want to spend time in there together. They didn't want to spend time in there on their own.
And after a few months the novelty wore off, they found other things to do and they ventured inside no more.
So this wonderful building and labour of love of my husband's became a dumping ground for all our tut and stood abandoned at the end of the garden for 10 years, looking very sorry for itself.
Until now.
We have breathed life back into its shiplap cladding.
My now 17 year old son and 15 year old daughter are at an age when their own den in the garden is a cool thing to have.
The toys and dressing up clothes have been replaced by our old tv, a PlayStation, CD player and my husband's state of the art 1980's turntable with a selection of our forgotten albums from the loft (to my chagrin they declined the offer of my Pet Shop Boys collection in favour of The Beatles and Queen. Really.)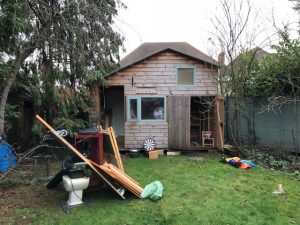 So, how did we do it?
A casual comment about the playhouse from my son over breakfast one day sowed the seed in our heads and that was that. 5 weeks of extremely hard work ensued.
Clearing the playhouse of 10 years of tut was no mean feat. Crazy how much can accumulate in that time. Still, looking at our loft after 18 years, perhaps we shouldn't have been that surprised.
We took down the rather sad, dog-eared Charlie & Lola and Power Rangers pictures from the walls, removed the partition and were left with what was a surprisingly good space. We kept the upstairs den on the strict instructions of our daughter who had earmarked that space as her own.
Then the fun really started. We…well, to be fair, my husband…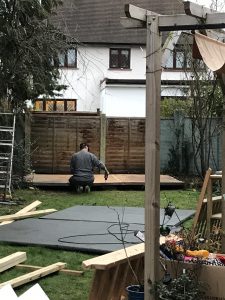 Replaced the floor – which involved dismantling and rebuilding the whole playhouse!
Ran cable for the electricity from the house
Insulated the roof and walls
Boarded the walls and ceiling

Fitted double glazed, opening windows 
Added skirting board
Fitted carpet
Painted the cabin inside and out – that was my bit to help!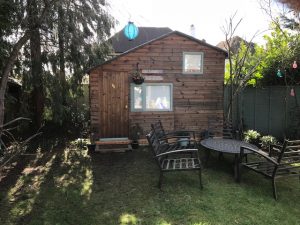 So, after a crazy, exhausting, frustrating, all consuming 5 weeks, I must admit it looks pretty amazing. The playhouse has grown up with the kids and is now a cabin.
And they love it. What a fabulous bolt hole for them and their friends.
Well worth the hard work.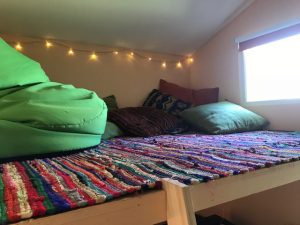 My daughter has filled her upstairs den with rugs, bean bags, cushions and has run fairy lights all around the walls.
It does look rather inviting. I think that might turn into my bolt hole too when she's not looking.
Just waiting now for my husband to build something to put all the tut back in to…!!