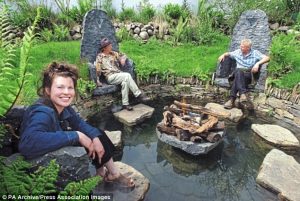 With her inspirational story now immortalised in the 2015 film Dare to Be Wild, Mary Reynolds is the young Irish gardener who, at 27, took the Chelsea Flower Show by storm and became the youngest person ever to win the gold medal.
Her evocative Celtic Sanctuary, with its 500 wild plants, 200 year old hawthorns, tons of ancient stone wall from Cork, as well as a fairy mound, common weeds and wild rabbit droppings, was certainly an unconventional entry into the Chelsea Flower Show.
With an imposing moon-gate stone archway leading to an Irish pasture, wild flowers and a circular pool surrounded by four stone Druid thrones with a fire burning at their centre, she created an unforgettable garden that captured the public's imagination who queued for hours to see it.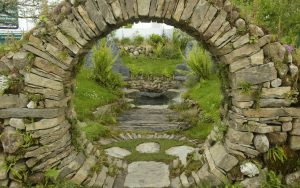 Not only that, it beat both world-class garden designers and our very own, self-confessed green-fingered heir to the throne, Prince Charles, to take the gold medal.
And praise too from Prince Charles himself who gave the garden his seal of approval.
'We shared a lot of the same ideas so we chatted about the things he's interested in, like organic farming,' Mary says of her conversation with Prince Charles. 'He said a lot of nice things about my work.'
Mary Reynolds studied landscape design at University College Dublin before setting up her own garden design business.
"But I hated what I was doing. It felt like we were trying to impose ourselves on nature."
So she applied to compete and build a show garden at the Chelsea Flower Show and her individual, distinctive design was accepted by the RHS selection committee.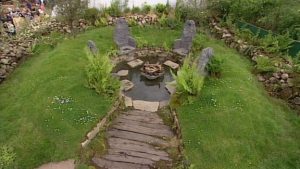 Having to raise the £150,000 worth of sponsorship needed for every entrant, she ended up with a roster of 14 sponsors – normally a competitor has only one. And friends and family mucked together to do what they could to help – including her cousins in Wexford who own a bakery called Ryan's Bread and supplied her with bakers' trays to carry sheep-field sods from West Cork to London!
"A group of about 16 of us stayed in a tiny, three-bedroomed flat in London's Marble Arch," she says. "We all slept on top of each other in sleeping bags. And built the garden during the day. It was a bit hectic and great craic."
"The garden really provoked a reaction from the public," says Reynolds. "People of Irish origin would smile and laugh and say it was a little piece of home. English people and those from elsewhere would have the most extraordinary responses; they would burst into tears, sob uncontrollably and talk about places they had known and that no longer existed. They wanted to tell me their stories and I listened."
Following her win, Mary was heralded as one of the top 10 garden designers of all time, alongside the likes of Capability Brown and Gertrude Jekyll.
"Chelsea was fabulous – a showcase for my vision that showed the world the value of wild places, but it was just the seed. I am still on my journey to find a way of working with nature in complete partnership, but that's in the future."
So what works of wonder have you created in your garden (wild rabbit droppings optional)?? We'd love to see your pictures