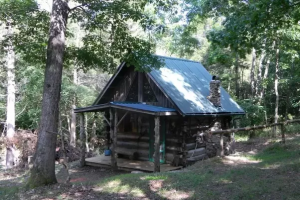 So, I searched 'Top 10 Fun Facts About Log Cabins'…it transpires there aren't any.
I did find out that log cabins originated in Scandinavia and Eastern Europe and the first log structures were probably being built in about 3500BC.
But where's the fun in that??
So I thought I'd give 'Scariest Log Cabin in the Woods Horror Films' a try. It transpires there's no shortage of these!!
Axe-wielding murderers, demons, zombies, in-bred cannibals, no Wi-Fi.
It all goes on in a log cabin.
Mind you. If I've learnt one thing from these films it's to avoid any cabin with an idyllic setting by a lake – it's likely to be a short stay.
On the plus side, if you're over 25 you should be fine. And never go with only 5 friends by the looks of it.
Anyway. See what you think of these. Perfect for a snuggle and to scare yourself silly as the nights draw in.
Cabin in the Woods
Five college friends decide to spend their holiday in a remote log cabin. Little do they expect the horrors that await them as, one by one, they fall victim to backwoods zombies. But there's more to this than meets the eye…
The Evil Dead
Five friends travel to a remote cabin in the woods where they discover a "Book of the Dead" which leads them to unknowingly summon up flesh-possessing demons from the nearby woods.
Cabin Fever
Five college graduates rent a log cabin in the woods and begin to fall victim to a horrifying flesh-eating disease which attracts the unwanted attention of the murderous locals out for revenge.
Friday the 13th
A group of young adults are stalked and murdered one by one by an unknown killer while trying to reopen a summer camp, Camp Crystal Lake, where, years before, a child had drowned.
The Evil Dead II
The lone survivor of an attack of flesh-possessing spirits takes refuge in a cabin with a group of strangers while the demons continue their attack.
Misery
After a serious car crash, a novelist is rescued by a woman who claims to be his biggest fan. She takes him to her remote log cabin to recover where her obsession takes a dark turn.
Dead Snow
A group of teens take a trip up to a remote cabin where they come face to face with some Nazi zombies.
Honestly. Don't these people ever watch cabin in the woods horror films for a heads up before they plan their trips away? Apparently not.
Forget the woods. I think I'll settle for a cabin in the back garden any day

And if you fancy doing the same, take a look at Jack's fantastic range of log cabins for sale – and, don't worry, axe-wielding murderers not included.