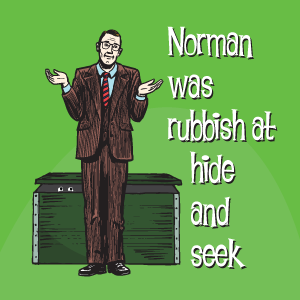 My husband is well aware of the hazards of being in our garden having had the odd flowerpot or two lobbed at him by me over the years.
So when I read that, according to the Royal Society for the Prevention of Accidents, flowerpots are the second most dangerous thing in the garden after lawn mowers, it was good to get affirmation that I obviously wasn't the only one using flowerpots as a means of persuasion.
However, on reading further, it transpired that being hit by low flying flowerpots isn't actually the danger. The official reason is that they are one of the prime tripping hazards in a garden.
Which ties in with the fact that, apparently, the most common accident in the garden is a fall.
But it got me thinking about the other possible dangers lurking on the lawn or on your patio ready to do you some mischief, for example…
Standing on a rake and getting the handle in your face (certainly funny in The Pink Panther Strikes Again but I'm guessing probably not that funny in real life).
Getting your feet tangled and tripping over an unravelled garden hose
Stepping on your secateurs after an afternoon of pruning roses
Walking into an unsecured ladder your husband left propped up against the house after cleaning the gutters (if my husband's anything to go by)
Children picking up sharp or heavy gardening tools
Weedkillers and insecticides left unattended
Footballs or skipping ropes lying on the lawn
All recipes for disaster.
But, to be honest, it wouldn't take much to prevent you looking like an extra from Apocalypse Now by having some decent garden storage and somewhere to keep everything out of harms way.


Garden Shed
There's really no need to pile all your bits from your garden into your shed – everything can have its own place.
So save the shed for:
larger garden equipment like your lawnmower, strimmer, wheelbarrow and hedge trimmer
coiling your hose neatly and hanging it on a hook on the back of the shed door
long handled tools, eg. rakes, brooms and spades, that can be kept on handy tool hangers attached to the shed wall
sharp tools, pesticides, weed killers, chemicals, etc., that can be locked away in here

Tool Stores
If space is a problem in your garden you can keep your tools organised and safe in smaller tool stores, some specially designed with your long handled tools in mind.
No doubt Ronnie Barker had one of these in his garden for his fork handles.



Metal or Wooden Storage Units
You don't have to keep your garden furniture, parasol, patio heater and barbecue in the shed next to your lawnmower. A smaller storage unit or wallstore to keep them protected over the winter is what you need.
And if you have bikes, a secure metal storage unit would be perfect.


Garden Storage Boxes or Chests
These look great and are ideal tucked away by the side of the house.
Where better to keep your cushions, outdoor candles, garden games and small tools safe and easy to get to.



Garden Benches and Arbours with Underseat Storage
Not only a lovely focal point for your garden but practical too. Somewhere to sit as well as somewhere for your cushions and magazines – and the odd flowerpot should a disagreement arise with your husband!
And finally, not forgetting the:


Mini Store
Superb space for all those bits and pieces you tend to use frequently in the garden – trowels, gardening gloves, watering can, wellies. Put a mini store by your back door and everything is to hand as you walk into the garden.
Now you can't get much more organised than that.
So it just goes to show that, with a little thought, there really can be a place for everything in your garden.
And as it is statistically proven that men have more accidents in the garden than women(!), there really is no reason for not keeping your husband safe – except from the odd low flying flowerpot of course!
With all this in mind check out Jack's outstanding selection of garden storage – big or small, he has all the bases covered for all your storage needs.