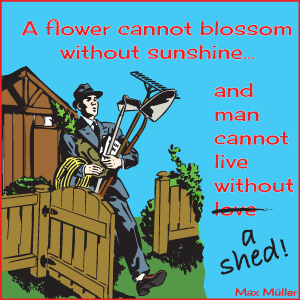 Help. I'm facing a dilemma that so many face at one time or another. I'm just not sure which way to turn.
Sleepless nights, anxiety, lack of support from a husband who just doesn't seem to understand my predicament. I need to resolve this problem soon before it drives me to distraction.
Should we get a metal garden shed or is a wooden shed better?
In my soul searching over the last few days I have come up with the following case for and against wooden and metal garden sheds to help me make up my mind. So here goes; see what you think.
Metal Sheds


Evidence for:
Cheaper and better value for money than an equivalent wooden shed
Durable and strong
Easily assembled
No foundation required
No annual treatment needed
Low maintenance
Rarely needs more than the odd hose down and oiling of hinges
No re-painting
Majority come with high quality factory finishes designed to keep them in excellent condition for many years
Superior security with many having strong locking systems
Fire resistant
Rodent and termite resistant
Rot resistant
Evidence against:
Noisy (although apparently no more noisy than a car – albeit a big car – parked outside your house)
Not as attractive as a traditional wooden shed
Prone to dents
Condensation problems
I have, however, done some investigations into the rust and condensation problems of metal sheds and what I've found out has actually put my mind at rest.
Condensation – doesn't have to be a problem with metal sheds if you use preventative measures when constructing the shed base. Take a look at Jack's informative blog on how to prevent condensation in a metal shed for useful tips.
Rust – if you choose a metal shed with a good quality, hot dipped galvanised frame and panels and a good coat of paint you should have years without the need for maintenance.  Using sealant paint on the metal can help protect it from rust (although not indefinitely) and applying comprehensive factory treatments can ensure the metal remains strong and durable in all weathers.
So, that's all good then.
Wooden Sheds


Evidence for:
Rustic, traditional appearance
Aesthetically more pleasing to the eye than a metal shed
No condensation problems
A pressure treated wooden shed should prevent rotting for many years
More design options available
If properly treated and maintained a wooden shed will last for a lifetime
Against:
More expensive than an equivalent metal shed
High maintenance
Needs annual timber treatment
More vulnerable to the weather
Using a sealant or stain and outdoor paint can help protect from the weather but cannot offer complete protection
Not as secure as a metal shed
All in all, that's given me a lot to ponder on and I just need to mull over the pros and cons for both now. I have my starting point which is a relief but for the time being the jury's still out.
In a nutshell though, it's a toss up between having something pleasing to the eye but high maintenance against something that's rugged but not much to look at…..wow, that could be describing me and my husband!! Perhaps we should get one each – his and hers!
And talking of my husband. You know what his words of wisdom to me on my current predicament were? "What about a vinyl shed…?" Thank you, darling.
If you're after a garden shed, take a look at Jack's substantial range of metal garden sheds and wooden sheds for sale to whet your appetite and give you an idea of what's available. You really will be spoilt for choice. Metal or wood……you decide (and hopefully quicker than me!).