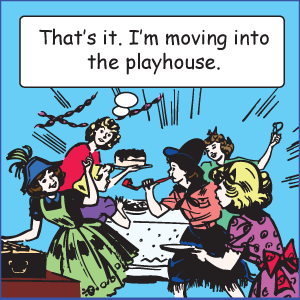 There's a lot about Christmas I really love; family get togethers, too much food and wine, excited children.
But there's a lot about Christmas I really dread; family get togethers, too much food and wine, excited children.
And being a mum and Father Christmas rolled into one, having to choose a mountain of Christmas gifts for children (let alone the expense) brings me out in a cold sweat. Tangerines, annuals and chocolate coins don't swing it like they used to. (Still, at least I know what my husband wants gift wrapped for Christmas – and that's free!)
But I know I can't put it off any longer. I'm going to have to start racking my brain to come up with some good ideas for Christmas presents for the children……
Now, I've always been one to extol the virtues of getting the kids playing outside in the garden, obviously for their health and well-being but, it has to be said, often for my sanity too. So this is my starting point.
There's a fabulous selection of garden games that would make super stocking fillers. Get Knotted in particular would be a fantastic giggle both indoors and out. And it does conjure up great visions of my mother-in-law throwing herself wholeheartedly in to it on Boxing Day after a port and lemon or two – this hip replacement really has been the making of her!
So I think that's a definite yes – more for my amusement than the children's, mind you.
I did wonder about a junior trampoline and trampoline instructor for my son. I'm sad to say my front somersault 1/2 twist days are long gone but I know he would find it great fun and great exercise. And, more to the point, if he can coax my daughter on to it too it will be a great way to wear them out and guarantee a peaceful night.
As for my daughter. She's 9 going on 18 and to say she likes to chat is somewhat of an understatement. Lovely for a while, don't get me wrong, but I can safely say my son's tolerance levels have finally reached zero. So that's why I think maybe a playhouse that she can turn into her own 'pad' and hold court with her friends would be perfect. And that would make it a very welcome Christmas present for my son too!
I've actually come up with a sneaky plan where I can reap the benefits of the playhouse on Christmas Day. I've decided I shall get my husband to put it together on Christmas morning, some time between when he's cooking the turkey and preparing the sprouts. And then, Christmas afternoon, I can escape the mountains of washing up, acres of wrapping paper, endless charades and squabbling children and disappear off with a bottle of fizz, box of Ferrero Roche, a good book and portable heater and hide away in the playhouse for the rest of the afternoon. Genius.
Excellent. I've made a start. And it wasn't too painful. But I think that's enough for now – I'll come back to it tomorrow.
So if you, like me, have been stuck for Christmas present ideas for your children, look no further. Jack has a great range of gifts and games for all ages (including mothers-in-law) – from trampolines to sandpits, playhouses to play tents.
Have fun getting them down the chimney!