Congratulations to My Tiny Plot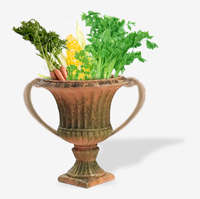 Well done to My Tiny Plot, winner of our Best Gardening Blogs poll – by a distance – polling over 47% of the vote!

[polldaddy poll=4908783]

Carolyn's Shade Gardens is a nursery in Bryn Mawr, specializing in perennial flowering plants that thrive without full sun and owns a two-acre ornamental garden open for tours.
Helen Johnstone is an amateur gardener, who lives and breath horticulture. Her blog, which she started in February 2008 is a record of what she has grown in her garden.
Fennel and Fern is a very stylish and inspiring gardening blog about growing your own fruit, vegetables and flowers, ideas on garden design – and fantastic recipes too!
A very helpful website blog for hints and tips on plants and gardening. All based on the blogger's experience, teaching gardening and particularly growing the plants in an urban garden in the North of England.
UK Veg Gardeners is a social network created by Gillian Carson as a meeting place for vegetable gardeners to share ideas and inspirations.
Part of the Country Couples dating site, this blog focuses on farming, country life, the countryside and rural issues, and features some notable posts on gardening
A thriving US-based community blog, which advocates returning to a simpler, more natural and homemade lifestyle. a variety of writers contribute, and the blog is edited by Nicole Bennett
A garden journal  – situated in Dyffryn Ardudwy, on the West coast of Wales. Written by Karen Hall, textile artist and gardener, publishing photographs and stories through the seasons.
Gillian Carson – of UK Veg Gardeners' fame – runs this terrific blog, which is about growing vegetables and eating fresh produce, all from a small vegetable patch in Bath.